Nat Ross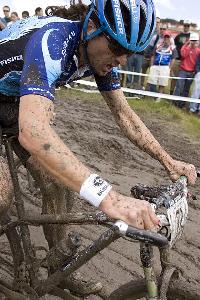 At 36 years old Nat Ross has become an icon in the endurance mountain bike racing scene. He is best known for his solo performances in 24 Hour races, however he also competes in various disciplines consisting of short track, super D, cross country, marathons, 100 milers, and multi-day stage races.
Nat is the longest standing member of the Subaru-Gary Fisher Mountain Bike Team as he has raced for Gary Fisher for the past ten seasons. With over 40 solo 24-hour races under his belt, including 9 victories, he has outraced all of his competitors. This Gary Fisher athlete has earned multiple national championship titles in the Marathon, 100- Miler, and 24 Hour disciplines as well as a two Global 24 Hour Champion titles. To this day, Nat is one of the most consistent podium finishers in endurance racing.
Growing up in Winter Park, Colorado helped this endurance pro develop his single-track riding skills. He started racing mountain bikes in 1985 as a junior and while growing up was mentored by Wade and Todd Wilderman, Sara Ballentyne, Eric Hendren, and Mike Kloser. This Colorado native also skied professionally. As a pro skier, mountain biking was the summer choice for training. During Nat's adolescent years he competed in both skiing and mountain bike events. Due to his multi-talented athletic abilities he was given the opportunity to compete in the first X-Games over a decade ago in both disciplines.
Nat also represented the United States as a triathlete at the World Championships in Italy in 2007 and has placed in the top 20 in multiple XTerra Off-Road Triathlons. Alongside his many victories on a mountain bike, this dirt lover also races professionally on the road. In 2006 and 2007, he was part of the winning 4-man team in the Race Across America. The longer and tougher the race, the better Nat performs.
Nat Ross is truly a pioneer in pushing the limits on a mountain bike. Ross was the first athlete to race a 29-inch wheeled mountain bike in Norba and World Cup races and the first cyclist to win a Norba race on the big wheels. Nat was also the first to win with 29-inch wheels on European soil.