Larkspur Canyon Gang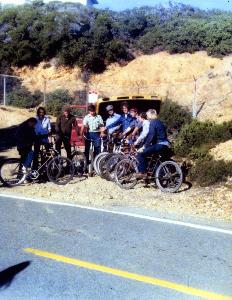 ( You can read more about the Larkspur Canyon Gang in our History Section )
Sometimes the obvious just stares you right in the face. Viewing "Klunkerz" on the big screen one night, there it was, plain as day: 'Twas time to honor the Larkspur Canyon Gang.
As early as 1970, while riding my road racer through Larkspur, I saw these guys with their clunky old bikes. They seemed to be having a good time, but what was with the bikes?
The answer presented itself in 1973 when Marc Vendetti, a fellow racer from our road club, Velo Club Tamalpais, got me to plunk down $5 for an old clunker of a bike we found. Vendetti told me of his earlier forays on Mt. Tamalpais and of the Larkspur "Canyonites." Soon I had my old Schwinn similarly suited and rode it to a VCT meeting. Other VCT members including Gary Fisher, Charlie Kelly and Otis Guy, joined in the fun and, well, the rest is history.
Less known is the Larkspur Canyon Gang, a large, loose-knit group of friends who in 1968, while still in middle school, started pushing bikes up Eldridge Grade to race back down. Self-described adrenalin junkies, they became obsessed with riding down the slopes of Tam. They chose cast-off balloon-tire bikes from prior decades, for their plentitude and stoutness. Through trial and error, they figured out what worked best and pieced together solid, soulful machines that inspired others to join on. Their passion popularized biking among their peers at a time when bikes were otherwise not a part of the landscape.
After the Larkspur Canyon guys had the mountain to themselves for four or five years, things started to change. Marc Vendetti became a mechanic at a bike shop in San Rafael along with Kenny Fuetsch, and both, Canyon Gang-fortified, soon joined Velo Club Tamalpais in 1973. Their connection to the bicycling crucible that was VCT took the fledgling sport to the next level and ultimately spun the new bike beyond Marin to the rest of the world.
By the time VCT members were on clunkers, the original Canyon Gang members had started to focus on other interests. Still, a second generation of Canyon Gang younger brothers and friends continued to ride Mt Tam refining their machines. In 1976, when the first timed mountain bike races were held by Charlie Kelly on the Repack downhill, Canyon Ganger George Newman was on hand to win Repack race #5. In half of the 24 Repack races, riders from Larkspur Canyon placed in the top five.
Would the mountain bike have evolved without the Larkspur Canyon Gang? We will never know, but their passion for riding Tam was without a doubt highly influential in the evolution of mountain biking.
Among the Canyon Gang were Robert Kraft, Kim Kraft, Tom Slivka, Anthony Durbin, John York, Vic Favre, Harry Harris, the Cookson brothers, Keith Rodgers, Tom Tully, Robert Heierle, Kraig Smith, Dave Richards (see Dirt Rag magazine no. 45, July 1995), Ian & Rob Stewart, George Newman, Harvey LaFlamme, Lyle Slocom, Todd Beeson, Kenny Fuetsch, and lastly Marc Vendetti. Marc wasn't actually of the Canyon Gang but was influenced by them. All are worthy of inclusion in the Mountain Bike Hall of Fame as the Larkspur Canyon Gang, critical players in the development of what we all now know as mountain biking.
By Joe Breeze, with help from Chris Paretich