Sal Ruibal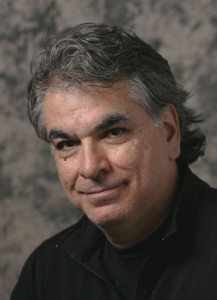 Sal Ruibal, the cycling reporter at USA Today, was the first prominent journalist to chronicle the sport in the mainstream media. Since he began covering the sport in 1995, he's introduced mountain biking to a mass audience around the world. His articles in the nation's largest newspaper reach more than 10 million readers every day – people who wouldn't normally pick up a cycling magazine.
Instead of treating the sport as a "wacky, extreme sport" with "crazy dudes," he has always covered mountain biking like a regular sport, writing stories about the personalities, tactics and equipment, as well as the culture and the societal impact of t mountain biking .
In addition to front-page cover stories on mountain bikers Tinker Juarez and Shaun Palmer, Sal also has profiled many of the sports luminaries, including pioneers and athletes such as Ned Overend, Brian Lopes, Hans Rey, Marla Streb, Alison Dunlap, Sue Haywood, Steve Tilford, John Stamstad, Scot Nicol, Joe Breeze, Mike Sinyard, Gary Fisher, Todd Wells, Julie Furtado, Kyle Strait, Cadel Evans, Alison Sydor, Sara Ballantyne, Elke Brusart, Missy Giove, Anne-Caroline Chausson, Chris Eatough and Cedric Gracia. Sal even went mountain biking with President George W. Bush and chronicled his enthusiasm for the sport. For many, that ride was the high point of the Bush administration!
Mountain biking is Sal's passion. That's how he spends all his free time and vacations. He loves competing in 24-hour events: He has two team finishes at both Canaan and Snowshoe with the USA Today Mountain Bike Team plus several 12- and 24-hour solo race finishes. Sal's best showing was a 5th-place masters podium spot at the 2002 24-Hour Solo World Championships in British Columbia, where he rode in the colors of the famed Volvo-Cannondale MTB Team.. He's ridden most of the major Tour de France mountain climbs, including a memorable singletrack ascent of the dreaded Mont Ventoux .
Sal's deep love and knowledge of mountain biking comes through in his articles that inspire others to get involved in this amazing sport of ours.
Sal's Acceptance Speech
Let me start by thanking Don and Kay Cook for keeping the Hall of Fame alive and kicking. Our sport owes them a debt of gratitude.
I am in China tonight, but my thoughts are with you. It breaks my heart to be away from the ceremony and so far away from so many of the people I consider great riders, great leaders and great friends.
Mountain biking is more than a newspaper beat to me. It is the beat of my heart, the blood pounding in my veins, the air in my lungs and the place where I have built my life. It is my church, my school, my psychiatrist and my salvation. And you are my family.
For that, I must thank the many pioneers who had the vision and soul to create this sport. The people who created baseball and football have long passed away, but the source of mountain biking is in this room tonight. How I wish I was there.
I am also grateful that I have been able to give something back by telling the world that mountain biking is unique, that it is more than turning pedals and shifting gears. It is about turning yourself over to nature, shifting from the workaday world to mud and rocks and roots and sweet buff singletrack that hugs you with G-forces and then kicks your ass with long climbs that send waves of pain through every muscle and bone.
And I am glad that I could share the stories of the men and women who ride and race, their challenges, their weaknesses and their triumphs. They are the equals of any athlete in any sport. Not many sportswriters can say they played catch with Babe Ruth or caught a pass from Johnny Unitas, but I am proud to say that I learned to ride from Ned Overend and Tom Hilliard, two giants of our sport.
Now, Ned and Tom may think that they didn't teach my sorry ass how to ride very well, but I'm a believer in constant progression, so in about 100 more years I'll be able to keep up with Marla on my local trails.
I am also proud that my kids have taken up the sport. My son Dominic is 23 and he's never had a driver's license. Doesn't need one. My daughters ride and I can assure you that the future of this sport is feminine. I introduced my oldest brother Joe to mountain biking and he now rides with his 7-year-old son to elementary school every morning. That's what mountain biking is all about.
But the most distinguishing aspect of the sport is that it creates friendships. I am being honored here tonight because of my dear friends on the USA Today Mountain Bike Team let a dopey beginner ride with them at Canaan way back when. Well, somebody had to do those night laps in the mud and rain. Team captain Sam Wong is both my training partner and my best friend and I owe that to mountain biking.
Mountain biking is what brought me together with my sweetheart, Sharon. We fell in love on the trails and the trails have kept us together all these years, with many more to come.
And I have to thank the guy reading this for me tonight. Steve was the guy who introduced me to the industry and he continues to be a great sounding board for ideas and trends. Have you seen it? I have.
There are so many more I could thank if I had the time, but you know who you are. When I get back to the states, we'll kickstart the grill and put some beer on ice and hit my local trails to celebrate this honor, this recognition.
I'm going into the Hall of Fame as a journalist, but I'm staying there as a rider. I couldn't ask for a better title or a bigger honor.
Party on. I'll see you soon.
Here's what folks in the mountain bike world have to say about Sal's impact on the sport:
"Sal is a true Mtn Bike enthusiast who understands the core of our sport. As the cycling editor for USA Today, his insightful and entertaining articles have exposed Mtn Biking to more people than all the industry mags combined." – Ned Overend
"He's the best writer mountain biking's ever had! He got us into the big spotlight." – Shaun Palmer
"My friend Sal has helped us communicate the spirit of mountain biking like no one else before. His passion for our sport inspires people all over the world to try mountain biking for the first time, and for many of us, reminds us why we tried it for the first time." – Mike Sinyard
"We need more media people in the world like Sal who tell the story from the experience of riding themselves … Sal is a real rider who practices what he preaches." – Thomas "Frischi" Frischknecht
"Sal's reach beyond the bicycle industry has contributed greatly to the world learning more and getting excited about the mountain bike than any other journalist I know. He's well-deserving of his place in the Mountain Bike Hall of Fame." – Tom Ritchey
"For years, Sal has been in the trenches of the cycling world picking the brains and closely studying those who move the needle within the sport. Sal has a genuine gift to turn the information he gathers into an interesting newsworthy story to inspire others to get back on the bike. What inspires me most about Sal is that he actually practices what he preaches … he is a true bike freak!" – Steve Blick
"Sal Ruibal is not only passionate about our sport, he's passionate about the healthy relationships he's developed from his saddle all around the world. Sal is one of the sport's best bike evangelists!" – Gary Boulanger
"Without Sal, mountain biking would be an unknown sport to mainstream America. All those commercials you see on TV with mountain bikers … that just wouldn't be happening if it weren't for Sal." – Bob Hadley
"Sal Ruibal is a unique guy. Despite being incredibly intelligent and a natural born writer, Sal does not intimidate. He's just one of those down to earth people that make you feel like you could crash on his couch for weeks at a time." – Marla Streb