Rebecca Rusch
Rebecca Rusch, recognized by Outside Magazine among the Top 40 Women Who've Made the Biggest Impact, and by Men's Journal with the 25 Most Adventurous Women in the Past 25 Years, she's one of the boldest, kindest, most determined champions you'll ever encounter, a maverick whose influence as MTB royalty has ignited loyalty for the sport among legions. Her grit, determination, and perseverance earned her the "Queen of Pain" handle, known for crushing monster endurance events and mountain bike races like the iconic Leadville 100 (not just once–legit for anyone, male or female–but four years running, an achievement of legendary status).
Perhaps one of the most remarkable things about her mountain biking métier is that she debuted at age 38, transitioning out of a successful career in multi-sport adventure racing, and in short order racked up multiple championships, breaking course records and setting PRs with almost every outing. A few stats from the highlight reel: 2007, 2008, 2009 24-Hour Solo Mountain Bike World Champion; 4x Leadville 100 winner; multiple-time national champion in 24-hour racing, marathon and single speed disciplines. Multi-endurance record holder (2013 Kokopelli Trail, Moab-Fruita: female course record, 142 miles, 13 hrs 32 mins; 2014 Trans Andes Challenge, Chile: 1st place solo open women; 2019 Iditarod 350 Trail Invitational: 1st female finisher, 10th overall). These are just some of the hard-earned experiences defining Rebecca Rusch's extraordinary trajectory as an athlete, adventurer, bellwether, best-selling author, entrepreneur, Emmy winner and activist. She is an honorary board member of both IMBA and the National Interscholastic Cycling Association (NICA), having helped establish the Idaho chapter of that league, as well as an ambassador for World Bicycle Relief.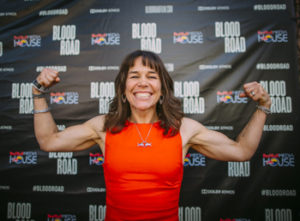 Adventure Sports Network wrote in 2018, "Rusch believes so deeply in the power and freedom of bicycles, and lives that truth so vibrantly and infectiously, that she inspires without trying. From the beginning, Rusch has sought to expand opportunities for women to become involved in outdoor spaces by offering herself as an example."* As part of her #JoinTheRusch movement, Rebecca translated her experience so that others could feel the encouragement, empowerment, and tribal satisfaction of using the bike to explore their potential. An early innovation in pursuit of inclusiveness, her women's-specific bike clinics and organized rides under the SRAM Gold Rusch Tours banner were wildly successful, helping launch similar women's programs around the world, and elevating numerous female athletes in the industry. From the enthusiastically received Ladies Lounge at the Sea Otter Classic, where Rebecca brought in other pros, coaches and luminaries to share their knowledge and stoke, to the Wheel Girls bike camps for teens she created, Rebecca has always widened the tent, invited people in and shared tools to help others power their own adventures. In person and via social platforms, her reputation and reach motivate millions of women and girls, boys and men to mount up, gaining skills and confidence for life while having a blast and learning how far they can push their limits. Promoting both her sport and her home state, she has unveiled a slate of Rusch Academy cycling camps comprehensively designed to level-up both physical and mental performance and confidence in the saddle with challenging riding and plenty of expert guidance on everything from nutrition to technical tips. Abroad, she leads intrepid souls on 2-week travel adventures known as MTB Lao, an annual mountain bike excursion on the Ho Chi Minh Trail–a trip of uncommon personal, cultural and historical significance. She recently launched the nonprofit Be GoodTM Foundation (to date, Rusch events have raised over $500,000 for selected bike-related charities), prioritizing the removal of UXO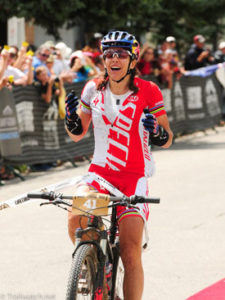 throughout Laos, protecting public lands for recreation, and using the bike to drive impactful change at local, national and global levels. 
Rebecca's never more fired up than when navigating her latest insanely ambitious project, but it's always about more than the ride itself: a higher calling, a cause to serve, an idea to promote. A few examples: mountain biking up and down Mt. Kilimanjaro to raise the equivalent of Kili's altitude in dollars to benefit World Bicycle Relief; cycling the 1200-mi. Ho Chi Minh Trail as the subject of Red Bull Media House's feature film Blood Road, then returning with a mission to use her resources to address the life-threatening issues of unexploded ordnance, or UXO, which she was shocked to discover littering the countryside throughout her record-setting ride; and, most recently, combining pack-rafting and rock climbing with a mountain bike-packing tour of Utah's Bears Ears & Grand Escalante Staircase National Monuments to raise awareness around preservation of public lands. 
Expanding mental, physical and geographic boundaries have formed the basis of her approach to health, wellness and earning a livelihood. The satisfaction of dreaming, then achieving, the unthinkable – repeatedly throughout her career – has motivated her to share what she's learned, and inspire others to pursue their own paths, on dirt and in life. She's an admired, accessible role model because she insists that if she can do it, others can too, and she's delighted to take them on a ride and show them how. "Decades as a professional athlete have reinforced the almost magical power of living outside your comfort zone," Rebecca says. "Whether it's for a public speaking event, a 24-hour push on the bike or a 10-day expedition in unforgiving terrain, the fulfillment that comes from facing fears and reaching beyond is thrilling and rewarding, at any level. I want to share the satisfaction that comes from trying, failing, succeeding, learning, growing and giving back." 
Throughout her career, Rebecca has continuously raised the bar and shows no signs of letting up. Combining her ongoing athletic pursuits with her entrepreneurial interests as CEO of Rusch Ventures, she channels decades of outrageously successful, intensely demanding competition and exploration into an impactful business network of outdoor adventure lifestyle events, products, experiences, and content designed to elevate possibilities for pe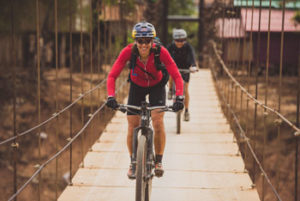 ople and their bikes. Her YouTube channel is loaded with a variety of content from educational to inspirational, encouraging riders to up their game with problem-solving, packing, planning, navigating, bike selection, maintenance tips and more. She was invited to author a regular column, "Rusch Job," for the venerable Dirt Rag Mag in 2014, and for several years continued to spread her brand of humility, inclusion, and empowerment (plus light doses of good old-fashioned smack talk), in both personal and universal terms. The popular column's appeal lay in her trademark style, discussing the whys and wherefores of biking and competition with both thoughtful analysis and irreverent reflection, treating the subject matter with gravitas but never taking herself too seriously. The discipline of journalistic deadlines presented a whole new type of challenge, but as usual, she dug deep and gave it her all, and in that same year published what she considered at the time her toughest project to date: the best-selling Rusch to Glory: Adventure, Risk & Triumph on the Path Less Traveled. 
Recognized as one of the greatest endurance athletes of our time, with plenty of gas in the tank at age 50, Rebecca continues to build upon the formidable foundation she has doggedly established over the past 25+ years. She remains committed to using the bike as she always has: not only as a means to express her own desires for discovery, connection, risk, reward, and satisfaction, but also as a vehicle for positive change: encouraging others to find fun, adventure, fulfillment, community and purpose in pursuit of their own goals and a better future.
*October 4, 2018, Kim Stravers, www.adventuresportsnetwork.com