Steve Peat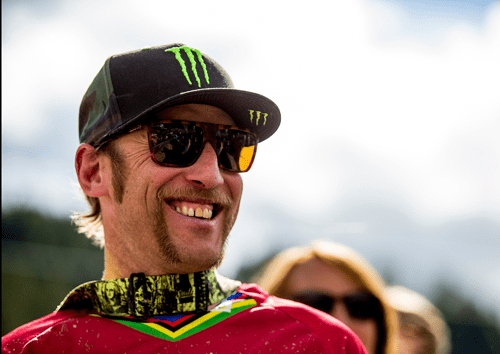 Steve Peat has had an illustrious career racing downhill mountain bikes that has spanned nearly 25 years starting in the early 1990's.  He had early success in the sport and has been a favorite with fans around the world.  Hailing from Sheffield, England, "Sheffield Steel", or "Peaty", has always contributed and given back to the sport that has given him so much.
His racing achievements include:
2009 Downhill World Champion
3X Downhill World Cup Champion
2X European Champion
9X British Champion
17 UCI Downhill World Cup wins
52 UCI Downhill World Cup podiums
Having won 17 world cups, this record held until Steve's Santa Cruz Syndicate teammate, Greg Minnaar eclipsed his achievement with 19 world cup wins to date.
While 2016 saw Peaty race his last UCI World Cup downhill, he continues to race local events, enduro events and is working as a brand ambassador for Santa Cruz Bicycles, who he joined with in 2006, along with also mentoring his development guys in the UK. Peaty has also started designing and building a few mountain bike parts to further cement his future in the sport he loves and calls his own.
Aside from his racing achievements, Peaty has always helped up and coming young talented men and women with coaching and mentoring.  Many of his protégées have had successful downhill racing careers themselves, such as Josh Bryceland, Mark Beaumont and Brendan Fairclough, to name a few.  He started a rider development program in 2010 called Steve Peat Syndicate which gives riders support, coaching and his unique touch to the furthering of the riders skills and entry into the world of mountain bike racing.
He also started a company called Royal Racing back in 1998, which is a clothing manufacturer for race kit for cyclists; through this he first started his love of helping younger riders achieve their goals.
Over the years Peaty has done various different Charity events raising in excess of £65,000.00 pounds for a local Cancer Appeal and for the past seven years Peaty has put on a downhill race in the woods near his home called the Steel City Downhill.  Proceeds from the event go to charity, The Sheffield Wildlife Trust which helps develop and maintain trails in Grenoside Woods near his home and to assist mountain bike projects around Sheffield.
In recognition of Steve's achievements in sport and for his generous contributions to charities, Sheffield Hallam University granted him an honorary doctorate degree, so his title is actually Dr. Steve Peat.
He has contributed, guided and made lasting change for the better of the sport of mountain biking.  Current and future generations will benefit from his actions.  We can all raise a glass and cheers Dr. Steve Peat for his decades long involvement, and look forward to many more years of the same!
Written by Kathy Sessler and Steve Peat