Velo Cross Club Parisien (VCCP)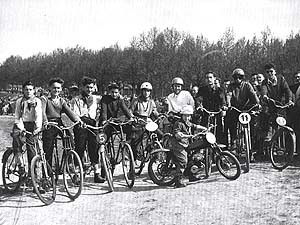 Web Site: www.youtube.com/watch?v=7pVj2–iSPA&e
Go to the above website to see a you tube video of this historic group.
As time goes on we discover early off road endeavors that had a spirit similar to today's mountain biking. And even if these activities have no direct lineage to today's mountain bike, some, because of passion, organization, and technical sophistication, warrant inclusion into the Mountain Bike Hall of Fame.
The French Velo Cross Club Parisien (VCCP) was comprised of about twenty young bicyclists from the outskirts of Paris who between 1951 and 1956 developed a sport that was remarkably akin to present-day mountain biking.
Their Velo Cross sport had little to do with skinny-tire cyclo-cross racing of the day, and although they did not use mountain biking's highly inspirational balloon tire, the spirit, purpose, and passion of mountain biking were there.
These riders juiced their French 650-B mainstay bikes with an extraordinary degree of technical sophistication. Almost all their bikes had suspension forks, most of which were adopted from mopeds; one of the suspension forks was made by a VCCP member. Frame gusseting, handlebar-mounted derailleur shifting, and improved braking were common to most of their bikes.
The VCCP riders, put off by the tediousness of cyclo-cross racing, were raring to go for the big air and unobstructed riding that are hallmarks of today's mountain bike racing. Even though VCCP races were witnessed by many during breaks at Parisien moto-cross races, their well-documented activity was lost in the creases of time and only surfaced again this past year in the French mountain bike magazine VTT.
A study of the remarkable photo collection of VCCP riding is a must for any MTB aficionado. The likes of a VCCP should really come as no surprise considering France's long love affair with bicycling. Leave it to the French!
— Joe Breeze