Mert Lawwill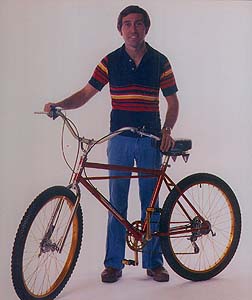 Mert has played a formidable role in introducing many key suspension concepts into the world of mountain biking. He is also one of the early pioneers in the off-road world, having introduced the first production mountain bike.
A former American Motorcycle Association Grand National Champion and member of Harley Davidson's factory team for over a decade, Mert starred in the movie On Any Sunday, which would later give a boost to mountain bikes via BMX. In 1978, following a motorcycle-racing career that spanned over 20 years, Mert designed & began manufacturing the Lawwill/Knight Pro Cruiser. The following year Mert was producing 25 of these mountain bikes at a time. Pro Cruiser sales prospered until the arrival in 1982 of the Specialized Stumpjumper & Univega Alpina Pro, production bikes from overseas.
Mert returned to the motorcycle world until 1989 when his rear suspension design was used on the Fisher RS-1. Mert then designed the Lawwill Leader front fork, which he later licensed to Control Tech. In 1995, he worked with Yeti on an improved version of his rear suspension, which Yeti pro Elke Brutsaert rode to victory at the 1995 World Cup at Big Bear, California. When Schwinn bought Yeti in 1995, Mert was hired as a suspension consultant. Mert designed the Straight Six, his latest full suspension bike, which won at numerous NORBA National events in 1996.
Known for his guidance to numerous bike companies that have sought his technical knowledge, Mert has also helped guide his son Joe up through the ranks to be one of America's top downhill competitors.
(Bio compiled by Zapata Espinoza, edited by the Hall of Fame)