Nicolas Vouilloz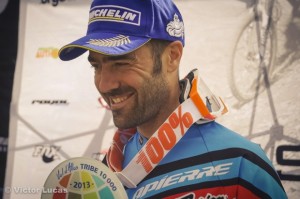 Web Site: nicolasvouilloz.com
Nicolas Vouilloz was born February 8th, 1976 in Nice, France. Nico is a French former professional mountain biker and rally driver.
Vouilloz won the Downhill Mountain Bike World Championships ten times, starting as a junior in 1992 and finishing his career with the his 10th victory in 2002, only placing lower in 2000 finishing 8th. He also won sixteen World cup Downhill races.
Steve Boehmke states, "Having worked with him for several of his racing years, I can attest to the fact that rarely on the racing circuit has there been a person as professional and dedicated to the science of speed as Nicolas. He approached every aspect of racing with the intensity of a brain surgeon and it showed in his multiple World Champion, World Cup and French National championship titles. Vouilloz' approach at the racing scene was also a step above the competition. Bringing telemetry and technology to the suspension on his bikes, his prescence in the pits brought the races one step closer to the style of Formula 1 Racing – serious, solid and scientific. To witness Nico in person was a study in style, grace and calculated power. Nothing being wasted from the top to bottom of the world's gnarliest mountain bike downhills."
In 2000, Nicolas started racing cars in local and then national rally series. He debuted in the World Rally Championship at the 2001 Monte Carlo Rally. His best result in the WRC is ninth place at the 2004 Wales Rally GB, driving a Peugeot 206 WRC for the Bozian Racing team. Vouilloz competed in the Intercontinental Rally Challenge from 2007 to 2009. He was runner-up in 2007 with three wins. In 2008, he won the championship in a Peugeot 207 S2000, ahead of Belgian teammate Freddy Loix, with one win, six second-place finishes and top 5 finishes in each race. In 2009 he finished fourth with the same car, collecting three podiums but no wins.
After several years absence from the mountain biking scene, Vouilloz returned to race professionally in 2007 at the fourth round of the World Cup in Champery, Switzerland. He races for Lapierre Ultimate Cycles.