Kennett Brothers
Over the last 30 years Paul, Simon and Jonathan Kennett have completely transformed off-road riding in New Zealand by organising world-class events, promoting rides through their national guidebooks, building sustainable trails coupled with mass tree planting, and winning widespread support for mountain bike access. Their latest accomplishment is the organisation of one of the world's biggest bike-packing events – the 500-rider, 3000 km-long, Tour Aotearoa.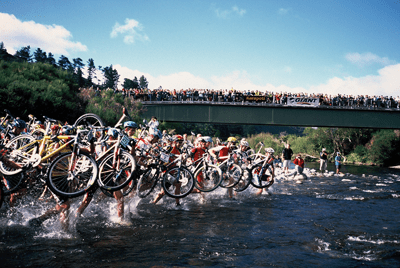 EVENTS
In 1986 Paul ran New Zealand's first national championship race, the Karapoti Classic, which attracted 45 riders. The brothers worked tirelessly with a huge team of volunteers to build the event up and by its tenth anniversary the Karapoti was regularly covered on television and entries were capped at 1000 riders.  Riders were now coming from Australia, USA, Canada, Great Britain, and Europe
Paul and Simon competed for a number of years, winning several races at national championship level and earning the right to represent their country at the World Championships.
They also organised stage races and mountain bike festivals, and directed the 1997 UCI XC World Cup race in Wellington and the 2006 UCI XC World Championships in Rotorua.
PUBLISHING
In 1988, Paul Kennett decided New Zealand needed a magazine to help promote and coordinate mountain biking at the national level. He and Simon were founding committee members of the New Zealand Mountain Bike Association. Paul self-published ten issues of 'New Zealand Mountain Bike Newsletter' from 1988 to 1991.
The brothers began writing guidebooks in 1991, when they teamed up with local wordsmith Patrick Morgan to research and write the first edition of 'Classic New Zealand Mountain Bike Rides'. This was an instant best-seller, and led Paul, Jonathan and Simon Kennett to form the Kennett Bros business, both writing and publishing cycling books. They updated that first book in 1996, 1999, 2002, 2005, 2008, 2011, 2014, and 2017 – no small task as the number of trails built in the country grew rapidly to over one thousand.
In 2002 the Kennett Brothers teamed up with other writers and produced a history book called 'RIDE – the story of cycling in New Zealand'. This led the Kennett Brothers to publish several spin-off books on specific cycling legends, including 'Spinning the Globe' about Louise Southerland (the first person to ride the Trans-Amazonian 'highway') and 'The Muddy Olympians' about six New Zealander mountain bikers who made it to the Olympics.
In 2012, the Kennett Brothers published 'Classic New Zealand Cycle Trails', a guidebook focusing on multi-day cycling trips, which has proved to be their best-selling book to date.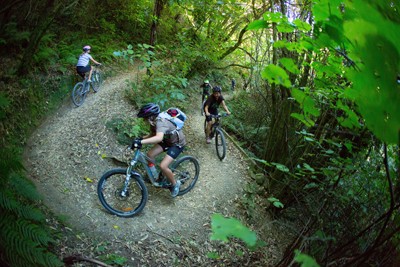 TRACK BUILDING AND CONSERVATION
In 1994, after a political battle for mountain bike access to local trails, the brothers started organising volunteer work parties to improve New Zealand tracks and forests.
When directing the 1997 Wellington World Cup, they organised a clean-up of the forest before and after the event, and the planting of 750 trees at the venue.
In 1998 they were appointed development managers for the new Makara Peak Mountain Bike Park on the outskirts of the capital city. Built on land suffering from a century of unsustainable farming, they soon set about designing new trails, and developed a policy of planting one seedling for every metre of track built. This forest restoration work helped gain widespread community support, and ongoing funding from the Wellington City Council. Makara Peak Mountain Bike Park has since won a number of conservation and recreation awards and become a model for volunteer trail development combined with forest restoration. It was the first mountain bike park to be designated a carbon sink and a scenic reserve area.
From 2002-2004, Simon designed and set out skills courses for the national "Kids Bike Jam" series. Lessons learned were applied to the country's first permanent kids' mountain bike skills track which the Kennett Brothers built in a central Wellington park in 2009. Jonathan took those design ideas around the country in support of the innovative Bikes in Schools programme, which builds bike tracks at schools.
In 2008, Jonathan and his partner Bronwen Wall, lead the establishment of Project Rameka, taking the model of forest restoration combined with trail development to the South Island. This forest is now the most popular riding destination in the Golden Bay district.
BIKE-PACKING
From the outset, the brothers have been keen bike explorers of New Zealand and beyond. Overseas trips included a 1989 five month pilgrimage to North America, a 1990 unsupported ride to Everest Base Camp, and a two-month European cycle tour in preparation for the 1991 MTB World Championships in Italy.
In 2008 Simon competed in the Great Divide Race (from Canada to Mexico) finishing third, in 19 days and raising NZ$11,000 for Medicine san Frontiers.
That inspired the Kennett Brothers to establish New Zealand's first 'dirt brevet' in 2010. The 'Kiwi Brevet' is a 1100 km bike-packing challenge with both minimum and maximum finishing times (3 and 10 days). Inspired by eco-tourism ventures, the event gives a return to local communities and environment – in lieu of an entry fee, participants must make a donation to a local charity.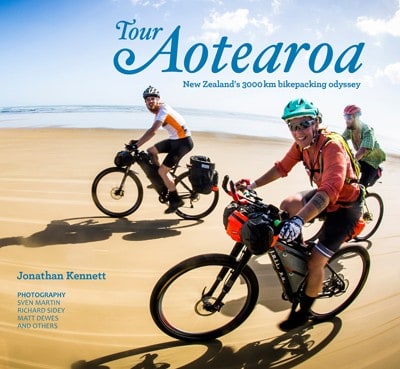 Soon after, Jonathan devised a 3000km length-of-New Zealand route called 'Tour Aotearoa'. He put out a call for interested riders to join him on an inaugural ride in early 2016, and was joined by 250 riders. The ride was a great success. To help establish the Tour route, the brothers produced detailed guidebooks, and a 200 page coffee-table book about the event and history of the land.
A second Tour Aotearoa brevet was run in 2018. Over five hundred people took part, making it one of the largest bike-packing events in the world. As well as a large New Zealand contingent, riders came from USA, Australia, Latvia, Denmark, Netherlands, Hong Kong, Indonesia, Cambodia, Canada, Italy, Spain, France, England, South Africa, Czech Republic, Germany, and Belgium. Another innovation for the Tour Aotearoa event was requiring all participants to offset the carbon burnt by their travel to/from the event. Event entry donations also raised over NZ$50,000 for much-needed work on sections of the course. All three brothers rode in the 2018 Tour Aotearoa.
The brothers' enduring contribution of ground-breaking events, best-selling publications and sustainable trail development has earned them a reputation as true pioneers of the sport, and played a key role in making mountain biking one of the most popular outdoors pursuits in New Zealand.
"The Kennett Brothers rarely get enough credit. This is perhaps because of their collective moniker which tends to, perhaps deliberately, shade the contributions of the unassuming yet fervent individuals inside it and contributes to general confusion over which is whom, and who does what. But let's be clear, no troika has ever done as much to increase participation in outdoor recreation in New Zealand. They have been, and are, the heralds of the mountain biking revolution."
Jamie Stewart, Federated Mountain Clubs Bulletin, June 2015