Laird Knight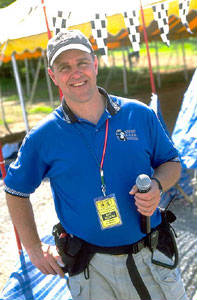 Laird was born into a military family. His dad was an army captain and much of Laird's childhood was spent re-locating from one military base to another. Laird learned to ride a bike when he was 5 years old in Ethiopia. His first mountain bike was a 1983 Ross, Force-1.Today, Laird rides a 19.8 lb. tricked out Cannondale.
Laird started producing mountain bike events in 1983. In 1984, he created the Canaan Mt. Series, now in its 14th year; it is one of the longest running mountain bike race series in the world. He ran one of the first NORBA sanctioned races, east of the Mississippi. He helped establish Davis, West Virginia as an East Coast mountain bike mecca. In 1989, he worked to create the West Virginia Mountain Bike Association.
In 1992, Granny Gear Productions, a company Laird formed the prior year, was responsible for the creation of the 24 Hours of Canaan, the first 24 hour mountain bike team relay race in the country. In 1995, Granny Gear created the 24 Hours of Moab race. Having secured Newsweek magazine as title sponsor for the 24-hour races in 1996, Laird has been educating potential corporate sponsors and their advertising agencies about the valuable demographic cross-section represented in the sport of mountain biking. The 1996 Canaan race had over 1,700 participants. Laird brought charitable fund-raising to his races in 1997, with The American Lung Association's "Early Bird" Registration Program, which raised more than $52,000 in it's first year.
Bio compiled by Laird Knight, edited by the Hall Of Fame
A Current Story from Laird
A 10 Year History
By Laird Knight
In the ten years since the inception of the original 24 Hours of Canaan, reporters from numerous publications have taken note of the phenomenal success of The 24 Hours of Canaan. There must be some consensus on what their readers want to hear about because they always ask the same questions. These are the questions that I am asked by reporters most frequently:
Q: When was the first 24 hour race? A: 1992;
Q: How many teams did you have the first year?
A: 36;
Q: How did you think of it? A: This question is not as easy to answer. Ideas are the products of lifetimes. To this day, I bear a scar on my left hip that I aquired when I was five years old. I crashed while riding my bike at night with one hand holding my handlebar and the other holding a burning stick of wood that I had pulled from a back yard fire. Some of the bikes we rode as kids had battery powered lights built right into the frames and others had lights powered by a generator that could be flipped over to engage your tire. The faster you went the brighter the light. (Hey, there's a good idea.) As a young teenager, I followed motor sports on TV and in the magazines, so I became aware of all-night races like the famous 24 Hours of LeMans, and motorcycling's grueling International Six Day Trials (ISDT). I wanted a motorcycle but my Dad wouldn't buy me one. I could have one, but I'd have to pay for it (fat chance). So, my similarly situated
friends and I rode our bikes like they were motorcycles. We made trails all through the woods. We made jumps. We made racetracks. We made noises like our bikes had motors. We practiced skidding them and carving power-slide turns, just like motorcycles. Not as fast, not as expensive, not as loud, but just as much fun.
In 1981, as a college sophomore, living in Boulder, Colorado, I could not believe my eyes when I walked past the display window of The Spokes Bicycle Shop. I stood stunned, entranced, fascinated. My imagination could not help but grasp the seemingly limitless
possibilities—a bike designed to go off-road like a motorcycle! But at $650, it was just too expensive for this college student, living on a budget.
While I saw my first mountain bike in Colorado, I rode my first mountain bike in West Virginia. Ironically though, it was cross-country skiing that brought me to the little mountain town of Davis, West Virginia, to manage a Nordic Center at Blackwater Falls State Park. And it was cross-country skiing that planted the seed for 24-hour mountain bike racing. With the short daylight hours of winter, the sun would set soon after quitting time. The only way you could get in some skiing of your own was to ski at night. On a full moon night we'd ski, some times till the wee hours of the morning. It doesn't take much light to ski at night. The snow is so reflective that even a clear, star-lit night can provide you with a semblance of visibility. On cloudy or moonless nights we'd ski miles into the deep woods with cheap plastic "Wonder Light" brand head lights. They were more powerful (6 watts!) than the existing crop of penlight based headlights, at the time, but they were built oh so cheaply! We used to joke that we "wondered" if they'd last the whole trip. It was many a night that we limped home on beams of light that looked more like light, orange stains on the snow than anything you would want to rely upon to actually see where you were going.
During the summers in Davis, we began exploring, with our mountain bikes, the very trails that we had skied all winter.These were the early days of mountain biking, certainly by East Coast standards. Mountain bikers were characterful, fun-loving folk (still are and
hopefully, will forever remain so). There was so much camaraderie amongst those of us who had discovered these wonderful machines. As I got to meet more and more mountain bikers, it was easy to see the need for organized events. Any excuse would do, but racing was the best excuse available.
In 1983, I hosted my first event, The Canaan Mountain 40K. Twelve racers started, none finished. It was a great race. The next year I organized the first
mountain bike point series, The Canaan Mountain Series, which continued well into the nineties. In 1988, I hosted the first Mid-Atlantic NORBA Nationals. It was the largest race in the country, that year. In 1990 and 1991, I produced the Tour of Canaan 2-event Stage Races. It was at the awards ceremony of The '91 Tour of Canaan that I announced my plans to introduce The 24 Hours of Canaan, a team relay race that who go from 12 Noon Saturday till 12 Noon Sunday. The announcement created a hush in the room, as people grappled with the concept. It was a pivotal moment in the history of mountain biking and as the hush turned into a buzz, it became clear that we were all about to enter uncharted territory. I wrote the rules for the new format over the winter of '91-'92, but really, the idea of the race had been brewing in my head since 1988. It was the advent of high-end lighting systems like those from our original title sponsor, NiteRider, that delivered the enabling technology for this bizarre concept.
The other question I get a lot is, "Did you ever think it would get this big?"
Answer: In short, yes. I had a strong sense, indeed, a conviction that the unique relay format and eerie allure of night riding would strike a cord with mountain biker's, everywhere. The teamwork aspect meshed well with the sport's intense camaraderie and who could ignore the sheer adventure of racing at 3 a.m. in the wild, wonderful West Virginia back-country?!
What I didn't foresee is more telling than what I did foresee. In The Inaugural 24 Hours of Canaan, in 1992, it turned out to be more fun than any of us could have imagined. I still remember how everyone was stumbling around afterwards with their tired, wide grins. Our races still produce this effect. It's just that in that first year, there was a certain element of surprise to it all.
I didn't foresee that our team format would become such a great showcase of solo ultra-endurance talent. The credit goes entirely to John Stamstad, who after years of lobbying me to add a solo division, won me over by sending me a team entry, paid in full, for himself (John Robert Stamstad) and his three teammates: John, R. Stamstad, J. Robert Stamstad and J.R. Stamstad. I was won over by John's etermination and tenacity and the flair with which he made his point. It's clear, in hindsight, that the class that I feared would undermine the teamwork focus of our event turned out to complement it nicely and
served to inspire us all. On the heals of his induction to the Mountain Bike Hall of Fame, John has decided to retire from his incredible career. He has set the standard for ultra-endurance mountain biking. Indeed he practically created the sport of ultra-endurance
mountain biking, single handedly. In 1992, he traveled to Australia for the first crossing of that continent by bicycle—The Australian Bicycle Challenge, a 3500-mile off-road race through the remote Outback. Also, that year, he entered his first Iditasport, a race in Alaska, in February, along the famous Iditarod Trail. Stamstad won that race in 1993, '94, '95, and '96. In 1997, the race was changed to the Iditasport Extreme and the distance of the race was increased from 170 miles to an arduous 350 and went across the Alaska Range of
mountains. Stamstad was the winner again with a time of 5 days, and 5 hours. Stamstad followed that with victories in 1998, 1999, and 2000. Stamstad also holds the Ultra-Marathon Cycling Association 24 Hour Off-Road World Record of 352 miles, and in 1996,
Stamstad was the first person to ride The 24 Hours of Canaan solo and he has gone undefeated at Canaan/Snowshoe ever since, frequently besting more than half of the teams.
In 1999, Stamstad conquered the Great Divide Mountain Bike Route-the longest off-road trail in the world. He completed the 2500 miles and 200,000 vertical feet of climbing in 18 days and 5 hours.
John will be the recipient of a Lifetime Achievement Award at this year's 24 Hours of Snowshoe and a second, identical trophy will be created and awarded on an ongoing basis to the solo champion of The 24 Hours of Snowshoe.
I didn't foresee that sponsorship would become so important. I used to think of sponsorship revenues as "icing on the cake," but to produce a professional event of this caliber takes more money than entry fees alone could ever provide. Sponsorships are a vitally important ingredient in the recipe for this birthday cake! We just couldn't do it with out them. They do, in a very real sense, make this great event possible. I've also learned what an effective marketing tool our event can be for our sponsors. But only if our sponsor's products and corporate philosophies are relevant to you will their sponsorships make a
difference. So, we set our standards high when we set out to bring sponsors on-board. We do not accept sponsorships from alcohol or tobacco related companies or any company, for that matter, that doesn't share the core values Granny Gear sees as the essence of this sport.
We're very proud of the companies that have chosen to become sponsors of The 24 Hour Race Series. You should be too. I didn't foresee course changes and land access problems. Various land access issues have forced the move from our original course outside of Davis, WV (1992 & 1993) to Timberline Resort in Canaan Valley (1994-1999) and then to our current location at Snowshoe Mountain Resort. Fortunately, each of these moves has furnished a real "leg-up" for the event but the larger issue of trail closures to mountain biking is one that deeply concerns us. If
you are on our mailing list, then you know that we work closely with The International Mountain Bicycling Association (IMBA) to help build awareness of IMBA's noble mission of education, trail maintenance, land access, and advocacy. IMBA is a very effective and hard working organization. I encourage you, if you are not yet a member, to become a member and let your voice be heard.
I didn't foresee that how much work would be involved in producing a world-class event. I wasn't even sure when I started this if it would provide full time employment for myself. Little did I know that GGP would come to need the talents of four full-time staff and a dozen or so part-time core staff who help us during the event's set-up and breakdown. Their
talents have been invaluable and it is to their hard work, dedication and professionalism that the credit for Granny Gear's success must fall.
I didn't foresee that someone would come along who would put so much faith in me and work so hard to make Granny Gear everything that I ever dreamed it could be. That person is Elizabeth Gillespie. I marvel at how much she can get done in a day. I am amazed at how many details she can hold in her head at any one time. I am humbled by her selfless dedication to our mission of fun. She stays out of the limelight but she deserves so much credit. If you happen to see her, tell her "Thanks E-beth!"
I didn't foresee that we would need as many as 280 volunteers for one race and that there would actually be that many people who would volunteer their precious weekends for us. What a miracle! It has been proven that people who volunteer tend to live longer lives. Perhaps there is a certain therapeutic aspect to volunteering or perhaps it's just a cosmic reward for their generosity. In either case, it is well earned and everyone who enjoys this race owes our volunteers a debt of gratitude.
I didn't foresee that The 24 Hours of Moab would be so expensive to produce. When we decided to take our proverbial show-on-the-road, in 1995, the lure of a mountain bike Mecca like Moab was hard to resist. With help from Kirsten Peterson, co-owner of Rim Tours, we found a venue that was incomparable in its beauty, with a perfect 24-hour course that was
strangely similar in some ways to the original Canaan course. There was only one problem-the venue was 12 miles South of town and 2 miles into the remote desert. Somewhere between my hardheaded determination and my unrelenting optimism, I convinced myself that we could make it work. To my knowledge, no one had ever attempted running a major mountain bike event in a completely remote location, but I wasn't going to let that stop me. I
understood, at some level, the challenge & complexity of providing all of the needed services:water,showers, port-a-lets, electricity, garbage, etc. But I had completely underestimated the costs. When the bills came due, I found myself deeper and deeper in debt. If only 100 teams had participated, my best-case scenario, it would have completely busted my fledgling company. Thankfully, due in large part to the caché of the Moab name and the substantial population of hard-core mountain bike racers in the Rocky Mountain
States, we hosted 124 teams that first year. It was our saving grace. Financially, Granny Gear was down, but not out. The 24 Hours of Moab's numbers ramped up quickly and has been "in the black" for the past few years. It was recently voted "The Best Mountain Bike Race" by readers of Rocky Mountain Sports and this year will book to our field limit of 400 teams, plus 50 solos.
I didn't foresee the 24 Hours of Tahoe would take so long to grow. Our newest "away game," The 24 Hours of Tahoe, is now going into its 4th year. California was reputed to have the highest per capita number of mountain bikers in the country. I figured it would be our fastest growing event ever. But for various reasons, it seems many core riders have forsaken the racing scene in California and this has made it a challenge for us to bring folks "back into the fold." Slowly but surely the word is getting out about the intense fun of team racing. Our new location at Northstar-at-Tahoe has made a big difference, too. The course is really fun, with lots of tight switchback sections. It's been more than a few racers who have commented that "This was fun! This is the way mountain bike racing used to be." It's always been our aim to keep fun and sportsmanship in mountain bike racing so comments like this really warm our hearts. Last year's race hosted 106 teams. Time will tell, but based on what I've heard from Tahoe teams about the "word-on-the-street," we may come close to doubling this year.
I didn't foresee teams would travel to all three races. For the last couple of years, we'd starting seeing well-known team names from Snowshoe start showing up at Tahoe and Moab! We're really pleased to see this. I must admit I'm a little envious. Imagine how much fun it would be to take the whole team on the road? For us, it's been a real treat to show them
that the Granny Gear style doesn't end at Snowshoe. We pull out the stops at every race.
Next year, we'll start awarding points for teams who want to compete across the entire series!
More than anything else, I didn't foresee that ten years would go by so quickly. What a long strange trip it's been. The history of mountain bike racing has been changed, forever and we've all played an important part. The 24-hour team relay format is here to stay.
There are more than 45 separate 24-hour events taking place this year and I'm sure that this is only the beginning. I look forward to ten more years of hard work, ten more years of making new mountain biking friends, ten more years of nutty, creatively named teams, ten more years of heart-stopping LeMans-style starts, ten more years of 3 a.m. laps, ten more years of MUD, SWEAT & GEARS.