Mark Slate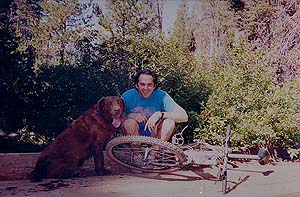 Web Site: www.wtb.com
A Brief Autobiography Related to Bicycles – by Mark Slate
Off-road cycling began for me in 1971 on the fire protection roads of Mount Tamalpais. Several fast, steep descents on a Schwinn Ten Speed at the ragged edge of control were fun, but not yet addictive.
I continued to ride my motorcycle. Six years later, in 1977, Erik Koski introduced me to the sport of "klunker" or ballooner riding. We rode mostly single track trails and I became hooked.
I bought a 1940's Schwinn frame from Dave Koski and built my first "state of the art" bike which I still enjoy riding today. Erik and I built up the original two Pro Cruisers at the Cove Bike Shop and I rode mine until 1980, when I got one of Erik's Trailmasters.
I met Steve Potts through Erik and bought one of his earliest framesets. He was impressed with the feel of my bike and asked me to assemble bikes for him. I assembled over 150 of Steve's frames, all but the first five, and helped him build frames by mitering, jigging, tacking and aligning. Steve and I were loosely associated with Charlie Cunningham to share the cost of producing brakes, forks and hubs.
Wilderness Trail Bikes was formalized as a three-way partnership in 1982. WTB and our racing team were soon requiring most of my time and I became less involved with Steve Potts Bicycles.
In 1985, the three of us started to push harder with innovations like Grease Guard and the Ground Control tire.
Tire design is one of my most rewarding duties. I've done the final production drawings for all of the 18 tire patterns produced by Specialized. I have managed Wilderness Trail Bikes parts production since its beginning.
Charlie and Steve continue to provide input on design and engineering for parts production as well as build their frames. I have built three frames which are currently being ridden by my wife Joan, a close friend, and myself.
I will continue to design bicycle parts because it is gratifying for me. To produce bicycle components that offer advantages over our increasing competition is a challenge and its own reward.