Ruthie Matthes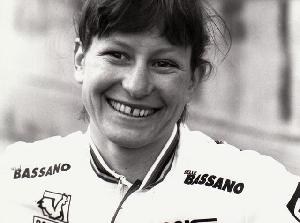 World Champion, World Cup Champion, Olympian: these are a few of the many titles held by Ruthie Matthes, during her 19-year cycling career. She was born in the outdoor Mecca of Ketchum, Idaho, home to many Champion athletes. As an energetic 3-year-old, Ruthie watched Jean-Claude Killy win alpine Gold at the 1968 Winter Olympics and confidently announced to her mother, Susan, that she was going to the Olympics. Eight Summer Games later, her dream came true as she marched with the 2000 US Olympic Team in Sydney, Australia.
Beginning her cycling career on the road in 1983, Ruthie quickly gained respect as a consistent and well-rounded racer. Her winning resume included a hat trick of three National Road Championships in three disciplines (road race, criterium and team time trial) over a two year period, plus a silver medal at the World Road Race Championships.
In 1990 Ruthie would trade her slick tires for knobbies and go on to win the bronze medal at the World Mountain Bike Championships in Durango. Officially switching to mountain biking in 1991, the best was yet to come.
Competing as part of what many consider the best women's mountain bike field in history, Ruthie was ever-present in a fierce and exciting rivalry that featured Juli Furtado, Susan DeMattei, Paola Pezzo and Alison Sydor. Over an 11-year period, Ruthie rode to the top of mountains and podiums alike, winning virtually every honor possible. An impressive list of her cycling achievements includes:
World Mountain Bike Champion – 1991
Grundig World Cup Champion – 1992
5-Time US National Cross Country Champion-1996, 1997,1998, 2000, 2001
3-Time US Road Cycling Champion-1989, 1990
World Mountain Bike Championship Silver Medalist – 1996
World Road Race Championship Silver Medalist – 1990
Grundig World Cup Silver Medalist – 1993
3-time World Mountain Bike Championship Bronze Medalist-1990, 1992, 1993
12-Time US World Championship Team Member (Mountain)-1990-2001
2 time US World Championship Team Member (Road)-1990-1991
US Olympic Mountain Bike Team Member – 2000 Summer Olympic Games.
USCF Female Rider of the Year – 1990Throughout her extensive career, Ruthie was not only instrumental in raising the awareness and competitive level of women's cycling, but was also a force to be reckoned with as a sponsored athlete. In her collaboration with some of the biggest names in Cycling, including the Weight Watchers, Celestial Seasonings, Ritchey, Evian, PowerBar and Trek teams, Ruthie was keenly aware of her sponsors expectations beyond the race course. Her professional attitude, innate friendliness and trademark smile were key elements in highly effective sponsor relations over a period of two decades.

Fast forward to 2009, Ruthie rolled back onto the scene to reestablish herself within the US Cycling Industry as the brand and product liaison for Magura Direct. In this pivotal role, Ruthie travels the world, drawing on her years of experience as a professional cyclist, providing representation and product development input for Magura, Vredestein Tires and Uvex. On behalf of everyone at Magura, we are very proud to have her back! It is our pleasure and honor to nominate Ruthie Matthes for the Mountain Bike Hall of Fame.

By Magura Direct Staff