Radek Burkat
Radek Burkat emigrated with his family from Poland, so most of his early years were spent scrambling to learn a new language, navigating the Canadian school system, and assimilating into a culture that must have seemed like the Wild West. Radek emerged from that experience as a gifted computer systems engineer who had recently discovered freeriding. It was a transformative experience. In his words: "I had tried a number of sports and I had hobby interests, but I was never passionate about anything, really, until I found mountain biking. Why wasn't everybody doing this?" This was the inspiration that led Radek to create pinkbike.com.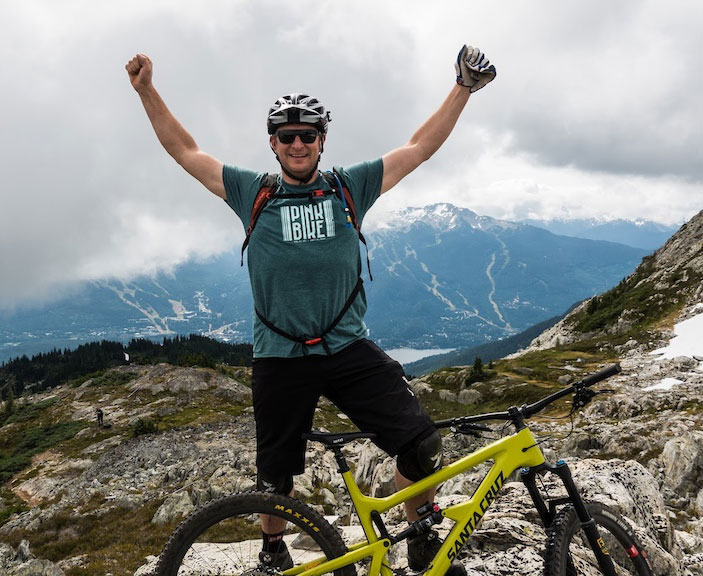 Back in 1998, freeriding was a relatively new term among mountain bikers and Western Canada was its epicenter. Pioneer trail builders were busy erecting the world's first teeters, ramps and skinnies – or carving out downhill connectors to link features and access notable huck-to-flat opportunities. The thought came to Radek while he was exploring one of those networks that there might be hundreds, if not thousands of riders just like him, digging, riding, and hot-rodding their bikes who had no idea what their counterparts were accomplishing. As soon as he got home, he began fleshing out a rudimentary user-driven website where the freeriding community could share images of their trails and technical riding stunts.
Pinkbike.com was an immediate success, assimilating over one million user photos in its first decade, a number that tripled 12 months later. Its buy/sell feature became the sport's ultimate flea market and Radek's pioneering efforts to streamline video up- and downloading on the site arrived just in time for the debut of smartphones and the Go Pro revolution. In 2011 Pinkbike launched its editorial format and grew to become the sport's dominant media channel. Radek's aspiration to unite the freeriding community exceeded all expectations. It could be argued that Pinkbike helped unify the sport in its entirety.
But Radek was not finished. "Without trails," he often said. "There is no mountain biking." Radek teamed up with Trevor May, who had developed a trail mapping application called Trail Forks. They reimagined the app to allow riders to share, discover and link trails together. Builders and users could post new trails, updates, and conditions, and there's an emergency assistance feature. Trail Forks was relaunched as a free app in 2014 and by 2021, it had accrued six million users and exceeded 350,000 trails. That same year, Pinkbike's membership was reported at 20 million, with 700 million annual page views. Still shredding on his mountain bike at age 47, Radek made the decision to sell both Pinkbike and Trail Forks, leaving many of us to wonder, "what is he is planning next?"