Bob Girvin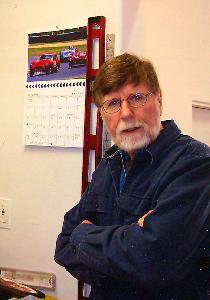 I am nominating suspension pioneer, and bicycle designer, Bob Girvin. Bob is a perfect candidate because his vision, ideas, and designs charted a new course for the mountain bike business and influenced many people along the way. Bob Girvin was the leader in the bicycle suspension revolution.
Bob Girvin designed the FLEXSTEM in 1987, the first aftermarket suspension item for mountain bikes. Flexstem sales took off worldwide, and the message was that suspension was needed on mountain bikes.
Bob's next project was suspension on the frame. He felt that if he could suspend the rider on a mountain bike, a rider could enjoy the experience more and ride longer. The first marketed suspension frame as a complete bike was in 1990 as the OFFROAD brand RF-1, which used elastomer suspension. (This was six months in advance of Cannondale's first frame.) OFFROAD took off as one of the leading full suspension brands, and morphed into PROFLEX in 1994 as the technology curve advanced. PROFLEX became the premier brand in full-suspension from 1992 through 1999.
Next Bob set his sights on the suspension fork. The forks at the time were all basic telescopic designs. Bob introduced a linkage fork called the Vector fork which was very light and designed to re-direct bump forces.
Bob retired from the bicycle business in 2000. He resides in Holliston, MA with his wife. His vision and ideas in suspension were way ahead of its time, and when the timing caught up, his products were leaders in the bicycle market.
Steve Thomas