Jenn Dice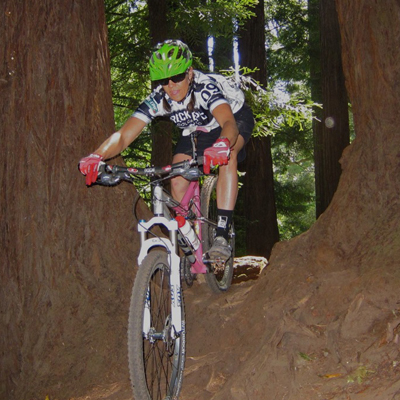 Jenn served as IMBA's director of Government Relations from June, 2001 until February, 2013. Given the glacially slow pace of change in public policies and government regulations, one doesn't dedicate nearly 13 years of their professional life, as Jenn did to the never ending battles and challenges that come with being the lead advocate of the sport of mountain biking without having a personal passion for the sport. That's Jenn and that passion is evidenced in her 10 (and counting) Leadville 100 buckles as well as the notable advocacy results she achieved as IMBA's government affairs director.
She has pounded many a pathway in the halls of the US Congress, including several times being invited to testify to key congressional committees. Jenn tirelessly helped shape important laws that affect access to public lands. She has sat at the tables of every federal (and most state level) government land agencies to secure partnership agreements with the National Park Service, U.S. Army Corps of Engineers, Bureau of Land Management and the U.S. Forest Service. These agreements serve to significantly shape how these agencies today manage and permit mountain biking access. She has been in the Oval Office and leveraged the passion of the then "Mountain Biker-in-Chief" to gain higher-level access to Cabinet level members of his administration.
A crowning advocacy achievement, ten years in the making was a high level positive change in how mountain bikes are managed in our National Parks. This is opening new opportunities for mountain biking in over 40 units of the National Park system.
Jenn also brought sensibility and strategic balance to the process of how the federal wilderness system adds acreage while not overlooking the consequence of loss of access for mountain biking. Because of Jenn's advocacy, today wilderness and conservation advocates proactively invite IMBA and mountain bikers to shape wilderness proposals so that access is preserved as much as possible. And when Jenn saw the fast moving train of new wilderness proposals, and gauged IMBA's sorely lacking capacity to react, she convinced captains in the bike industry to significantly fund a new advocacy effort called the Public Lands Initiative or the PLI. The result was amazingly, very few miles of lost access.
Named to the 2011 Outside Magazine's Power List, Jenn was deservedly honored as one of the nation's top 25 "most influential people in the world outside." MBHOF inductee and six time Leadville champion, Dave Wiens weighed in on this recognition saying, "Everyone who rides a mountain bike has someone championing and protecting their sport in Washington, D.C., and that's Jenn." Also on this list was then REI CEO and now US Interior Secretary, Sally Jewell. That's good company.
Today Jenn directs the People for Bikes Business Network and government relations program, directing a new project called the Bohm Strategy Center, which will create a strategic repository of information on bicycling businesses, key contacts, allies and supporters in all 50 states. She will also lead People for Bikes' D.C. lobbying team. So her professional advocacy for bicycling continues post IMBA.
Jenn also serves on the Outdoor Industries Women's Coalition and was awarded their 2013 Pioneering Women leadership award in recognition of her outstanding commitment toward mentoring female colleagues in the industry. Jenn was nominated by Elysa Walk, GM for Giant Bicycles, USA who said, "Jenn is absolutely paving the way for women to take senior roles in advocacy and in government relations . . . she will only continue to inspire women far and wide within not just the bike industry but also in politics."
There are many deserving nominees for advocacy to be inducted in to the MBHOF. I hope you'll agree the time is now for the 2014 advocacy inductee to be Jenn Dice. In her own words Jenn reveals her commitment and professional service is more than a job. It's a passion to make the world a better place for mountain biking. A better place for bicycles in general.
Said Jenn, "I love the bike industry and truly believe in the men and women running it.  We have some incredible, visionary supplier leaders and passionate retailers making a difference in their backyard. We are here because we want to change the world and make lives better and the bike is a great way to do that on many different levels. Very few industries can say that."
Submitted by Mike Van Abel, President, IMBA