Jason McRoy
"Do not follow where the path may lead, go instead where there is no path and leave a trail" was Jason McRoy's motto.
His story of overcoming adversity and indomitable spirit inspired – and continues to inspire – people worldwide to chase their dreams in cycling and life.
Jason McRoy is universally regarded as the first true Superstar of British Mountain Biking, paving the way for his peers and those that would follow him.
He was one of the first Brits to take the risk, financially and competitively, to race abroad.  At the Eliminator at Mammoth Mountain, he came second against some of the best names in the world.  While they were backed by well-financed professional teams, he was a privateer who just about raised enough money from his winnings to go to the next race.
He also had that rare ability to ride any bike well and not only that, his total determination to win is the stuff of legend.  For example, in the World Championships in Bromont, Canada, his front tyre flatted stopping him in his tracks.  Rather than give up, he ripped the tyre off and finished the race on the rim.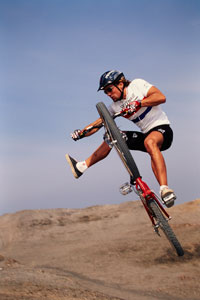 In this short time as a racer he won the British Points series twice, was ranked tenth in the world and inspired a whole generation of future champions to compete on the world stage. His legacy and inspiration go beyond cycling, and even today, 24 years after his death, people still relate how his story changed their lives. His peers also bear testimony to his role in the 'Brit Invasion' in Mountain Biking.
Steve Peat: "Jason was an awesome racer, he was almost ahead of his times as a DH guy.  The way he approached his training and racing was second to none and he was a huge threat on any type of terrain."
Rob Warner: "Jase used to race all the world cups pretty much as a privateer back then. He used to give it everything, never ever wearing any pads whatsoever, just a skinsuit.  Definitely watching JMC charge down all those hills was a huge reason why I got into downhill.
Will Longden: " Jason was the man at the top, the benchmark and the inspiration to all UK mountain bike riders. Most young riders take for granted International racing these days, but back then Jason opened the door of possibility to us all and lead the way!"
Matt Skinner (What Mountain Bike Editor): "His story was and is an inspiration: the first Brit to truly make it as a pro. I've often thought that his life – and particularly the story of him and his Dad taking the risk to race the US and to take it to the wire at Mammoth's Eliminator in order to win his prize money home – would be the stuff of a great sporting film. But he remains a true mountain bike legend and to this day, his riding still echoes in my head as the way to ride."
It is really difficult to encapsulate the story and what is often referred to as the legend of Jason McRoy in such a short space. As a pioneer he showed the UK – and the rest of the world – that by following your own path you can make breakthroughs that were thought out of reach to most.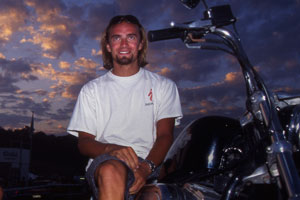 His fellow riders, Steve Peat and Rob Warner gave him two runs in the 1995 World Downhill Finals in Germany with his ashes, smuggled into Germany, strapped to their bikes in film canisters.
Rob Warner: "It was definitely an honour to carry JMC's ashes down.  It was really emotional.  I think it gave me and Steve something that week, I remember us absolutely flying in practice. It's still hard now to think about it all, I really wish Jase was with us still, I miss my old mate."
Steve Peat: "It was a huge honour to be able to race the World Championships carrying Jason ashes.  UK racing would have been different if Jason was still around and he is greatly missed by everyone."
In February 2010, some 15 years after his death, Jason was selected as one of the most significant riders of the last 50 years and was inducted into the British Cycling Hall of Fame alongside 49 other inductees.
To this day his impact on the sport and people's lives is acknowledged by many and he still has a huge following.
Timeline:
November 26, 1971: Born in Bedfordshire with a hole in his heart. It's a miracle he's born at all; considered a threat to his mum's life, doctors advise termination.
1983: After a BMX crash, he tears his cruciate ligaments. Jason undertakes intense leg routines in the gym to tighten the ligaments.
1988: Against medical advice he gets a mountain bike and enters his first downhill.
1991: Selected for the UK downhill squad at the Worlds in Il Ciocco.
1992: On Team MBUK, he sees that the future is in international downhill and spends a lot of time abroad. Sponsors think he should race in the UK and pull his sponsorship. Selected for the UK Worlds Team.
1993: The Grundig Downhill World Cup Series begins. He and his dad quit their jobs and hit the world circuit with only a bike sponsorship. In the US he wins $3,000 for second place in the Eliminator and a Tag watch for the fastest through the speed trap in Vail. The prize money enables them to travel to Hunter Mountain, where his ride on a broken bike impresses Specialized. Returns to UK and wins British Championship. Selected for the UK Worlds Team. Signs for Specialized USA.
1994: First year as a Specialized professional rider. Retains Championship title. Selected for the UK Worlds Team
August 24th, 1995: Jason dies when his Harley Davidson is struck from behind by a lorry at Woodhead Pass on the A628 in Derbyshire.
February 2010: Jason is inducted into the British Cycling Hall of Fame