Alan Bonds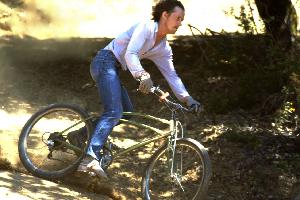 It is with great pleasure that I nominate Alan Bonds in the Pioneer category of the Mountain Bike Hall of Fame.
Alan has been an integral part of the Marin fat-tire scene since the mid-1970s. Sometime in early 1976, Alan made a pilgrimage to the Legendary Wocus bike-pile in Oregon with some friends from The Larkspur Canyon Gang. He returned from that trip with 50 of the highly-prized, Pre-War Schwinn Excelsior frames. Those bikes were eventually stripped, painted and built up as Marin County Klunkerz. Many of these original bikes are still riding the trails of Marin today.
Alan's involvement with the Klunkerz scene really started rolling when he moved into a house with Gary Fisher and Charlie Kelly in the Summer of 1976. It was under that roof that Alan perfected the craft of building Marin-style Klunkerz on those old Schwinn Excelsior frames. As Gary and Charlie will attest, it was Alan who really got into building up these bikes for others to purchase and ride. There were very few people who were capable of building a Marin Klunker back then and Alan had it wired.
Within a very short period of time several of the Marin pioneers were also building up Klunkerz, but there was something that made Alan's bikes unique. Alan's profession as an artist and painter enabled him to create bikes that were not only functional, but beautiful as well. Alan took great pains to prep the frames and create the original "Featherhead" and "Points and Darts" livery, being faithful to the original Schwinn Pre-War designs. The highly polished fit and finish of Alan's bikes really made them stand out from the pack.
Alan was always a competitive sort, as well. He organized the first cross-country race in Marin, The Carson Cross Country Race, with roommate Charlie Kelly. That race included just about everybody who was anybody on a bike in Marin. The famous Jerry Riboli photograph with all the Marin County pioneers lined up on their Klunker bikes was taken at the start line of that race.
Living with Gary and Charlie also thrust Alan into another legendary fat-tire spectacle. On October 21st 1976 the first Repack race took place down Pine Mountain, just East of downtown Fairfax. There were only six people in that first race, and many of the riders crashed or had mechanical failures on the way down the course, but it was Alan who came out on top. That would be the first of more than two-dozen Repack races that defined a sport and gave rise to a worldwide phenomenon. Alan participated in nearly all the Repack races and was often a top finisher.
Alan continues to ride and tinker on bikes. He's building up the old style bikes, too. You can see some of his creations on his website, link above.
Nomination by Billy Savage