Shaun Palmer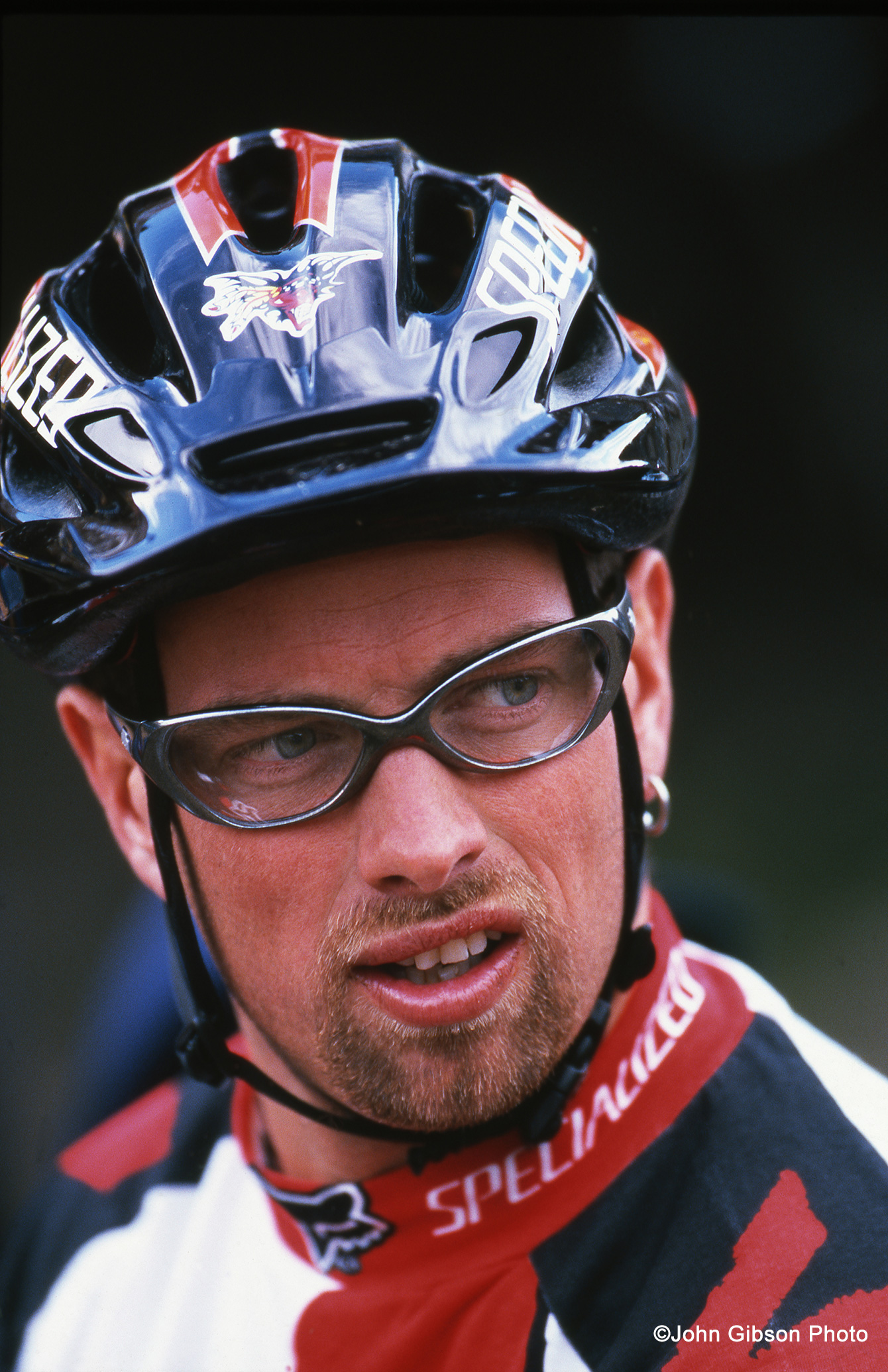 "One of the forefathers of extreme sports," (ref. Wikipedia) Shaun Palmer, burst into mountain biking in the mid-1990's, at a burgeoning time for the sport. In previous years, it was commonplace for "mountain bikers" to ride the same, single bicycle to participate in all facets of the sport—cross-country, downhill, dual slalom, hillclimb, etc.
But by the mid-90's, a technology boom began to optimize new, highly specialized bicycles, creating a "Y" in the trail for the sport: Light-weight bikes got lighter and more efficient to pedal "cross-country"; and heavy-duty bikes became more robust and more capable to be utilized for going strictly "downhill". And, effectively, the sport's factions of "cross-country" and "downhill," as we know them today, began to take form. "Cross-country" already had established heroes— such as Ned Overend, nicknamed "The Lung" for his exceptional aerobic endurance— that seemed to personify the genre, but downhill had yet to identify its embodying superstar.
Enter Shaun Palmer in 1995.
Palmer, a world-renowned Hall of Fame snowboarder, scored a breakout performance just one year after getting into the sport. Aboard one of the most-prolific downhill bicycle frames of all time, the Intense M-1, he scored the silver medal at the 1996 UCI Downhill World Championships, missing gold by just 0.15 seconds. His immediate world-topping results captured the immediate attention, and intrigue, of the entire mountain bike community.
Without a traditional cycling background, Palmer's approach to the sport was inherently different—he dressed different, he acted different.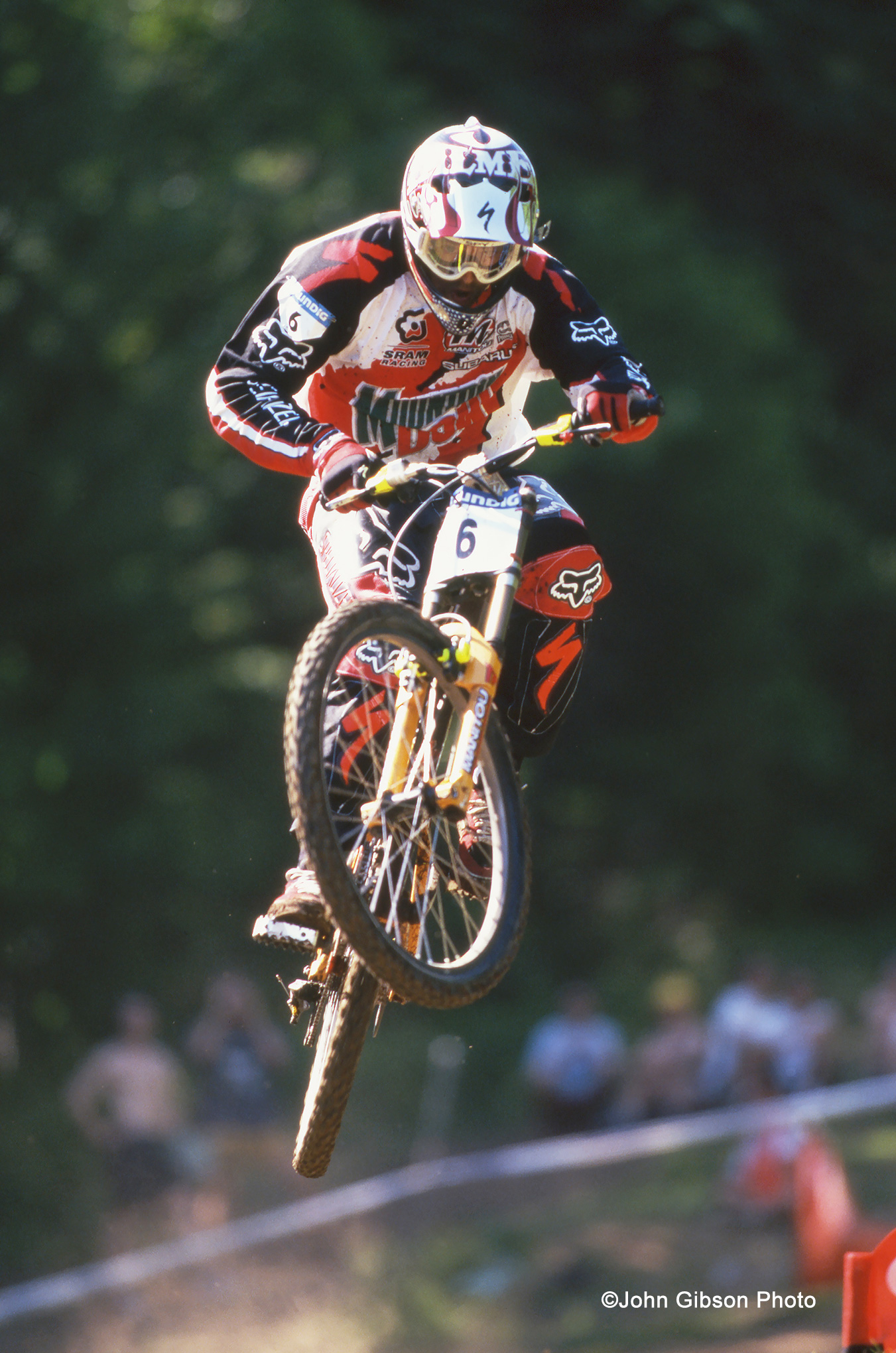 Unlike his competitors—who utilized a mix-matching of XC and road race equipment that didn't quite seem to match the quickly evolving technology of the bicycles they were riding— Palmer wore baggy motocross-style gear, skate-style shoes and flat BMX-style pedals. Palmer's tattoo-clad appearance alone seemed to perfectly match the persona of "downhill"—loose, fast and unapologetically different. In parallel with the bike's innovation, Palmer was equally innovative in terms of the style gravity riding necessitated. In a world where form follows function, Palmer provided a vision for the sport that none before him could see. While physical fitness was the core value of "cross-country," Palmer offered a new perspective for "downhillers"—where attitude ruled all. In only a few short, prolific years in the sport scoring top results—including multiple National Championship wins in downhill and dual slalom, a World Cup victory (Big Bear, 1999)—Palmer's success elevated the entire genre of downhill mountain biking.
"Palmer's larger-than-life presence thrust the sport of downhill into the spotlight," says Rob Warner, current UCI World Cup commentator and modern-day voice of downhill mountain biking. "He changed the sport forever." Exuding a new energy, Palmer attracted new audiences to the sport—an impetus, made-for-TV personality, that motivated X Games promoters to add MTB to their winter event program, where he delivered a Snow MTB 4X gold medal (1997)—attracted outside-the-bike-industry brands to the sport and garnering big-money contracts from Specialized, Mountain Dew, Swatch and more. Palmer was able to recalibrate a generation of riders that continue to follow his lead today.
"Palmer brought in baggy gear and an attitude that no one could match," says Warner. "When he came in, it was just a bunch of people in Lycra racing downhill. He changed it for the better … he made the sport cool. He didn't win on fitness —he won on desire, want, fury … there'll never be another mountain biker with his attitude and influence again."