Paola Pezzo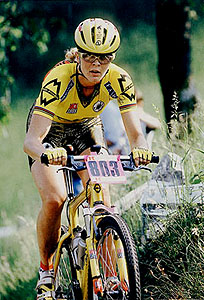 Only one person has won a "Triple Crown" of mountain biking. Verona, Italy's Paola Pezzo won the World Championship in 1993 (Métabief, France) and in 1997 (Chateau d'Oex, Switzerland). In Atlanta in 1996, she won the Gold Medal at the inaugural mountain bike Olympic event. And in 1997, she won the Grundig World Cup.
Paola began mountain bike racing in 1989 for Bianchi, and in 1992, she switched to the Gary Fisher team. After winning the Worlds in 1993 (a big surprise to everyone including herself), it took her three more years to reach stars like Furtado, Sydor, and Matthes. From her Olympic Gold until the end of the 1997 season, she won every race she started, including her World Cup, in a dominant style seen only from the likes of Juliana Furtado before her.
Her phenomenal racing success, coupled with her physical beauty and unassuming nature, has catapulted her to mass-media stardom, attracting much interest to mountain biking, particularly in Europe.
-Mauro Bertolotto, Raceware