Marilyn Price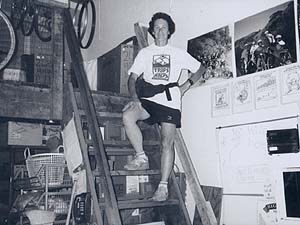 Marilyn Price's biking career started in 1980 as an employee of the Cove Bike Shop in Tiburon, California. At that time Cove was THE place to buy a mountain bike in the Bay Area. It was frequented by the top mountain bikers in the field.
In 1982, Marilyn bought her first mountain bike, a Trailmaster. It was Eric Koski's 3rd frame. His brother Don finished putting it together just in time for Fat Tire Bike Week and the infamous 6th Annual Pearl Pass Tour to Aspen. In Crested Butte, Marilyn had her first real mountain bike experience. The rest is history!
It was in 1986 that Marilyn conceived the vision that was to become Trips for Kids. One day she was peddling up Mt. Tamalpias, looking at the view of San Francisco below. She remembered the children she saw as a volunteer at Saint Anthony's Dining Room in the City. It struck her that it may be possible to take those kids and do what she was doing, mountain biking in Marin County.
In 1987, Trips for Kids started with a single bike ride in the Pt. Reyes National Seashore. That day, there were six rental bikes, a bunch of inner city youth from the Bay Area and a dream. Marilyn was unsure of the next step. To her chagrin many individuals and companies came to rescue donating money and products for her cause.
Today Trips for Kids takes over 600 kids on rides annually. Marilyn's dream is to move on to the national level and with the help of her 150+ volunteers she will no doubt succeed.
Marilyn is known for her boundless energy and dedication to her mission. You can't miss her on the trail riding her 1984 Redline with saddle bags full of assorted bike parts, safety equipment and hundreds of Trips for Kids flyers that she passes out along the way. Her bike weighs in at close to 50 lbs. Not bad for a one-woman road show!