Mike Sinyard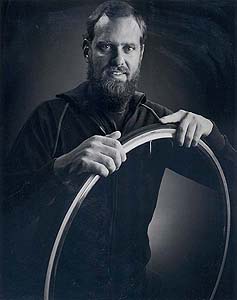 Web Site: www.specialized.com
In 1974, at the age of 24, Mike Sinyard began putting bikes together from Italian components he imported. He actually ran an import service, providing these sought after parts to California bike shops. Soon, mountain bikes became more common, but the choice was either a custom built, racey bike or a heavy rebuilt klunker. He knew he could build a viable bicycle for less than custom bikes cost, and thus the Specialized Stumpjumper was born in 1981.
His company's figures now exceed $50 million in annual sales, with Specialized providing support for bicycle races and racers, and building innovating new parts and bikes every year. The firm moved to Morgan Hill in 1984, and receives good local support while supplying merchandise to over 3000 specialty bike shops in a dozen countries.
"I am quite passionately involved in cycling," Sinyard says. "Bicycles are more than just a business to me. They are an integral part of my life. I am involved in this sport because I love it."
Mike lists two other familiar names in the industry as his heroes: Charlie Cunningham and Steve Potts. Among the bikes he has owned are a Ritchey (his first), Cunningham, Merckx, Potts, Ibis and Salsa.
Sinyard and his wife have two children and live in California. He hopes to " continue to improve the mountain bike weight, comfort, durability and performance as well as to offer an affordable machine.