Gary Crandall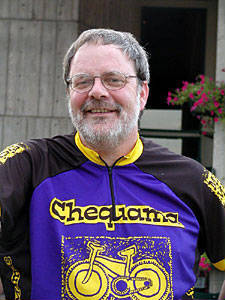 GARY CRANDALL's first off road experiences are rooted in northwestern Wisconsin in the tiny towns of Cable & Hayward in the late 1970's. There the seeds of an off road bicycle event on the world renowned American Birkebeiner cross-country ski trail were sown in 1983. An inaugural field of twenty-seven off-road pioneers gathered on the Main St. in Hayward, WI to take part in a weekend of fat tire racing and fat tire fun dubbed the Chequamegon Fat Tire Festival. From that first field of 27 to the 2,500 riders who are selected in a random lottery six months in advance of the event, the Chequamegon Festival remains one of the nation's most popular off road gatherings.
The Chequamegon event set the tone for the mountain bike boom that occurred in Midwest during the 80's and 90's. As the festival director since 1984, Gary has been continuously at the helm of one of the most popular longest running events in the sport. With an eye toward sustainability of trails, quality of event experience and maintenance of race staff sanity, a self-imposed 2,500 rider limit was set on the Chequamegon cross country events in the early 1990's. In the event's twenty-one year history, well over 35,000 riders have enjoyed the roller coaster glacially formed terrain of the Chequamegon race courses.
As a devoted trail advocate, Gary and other area volunteers were instrumental in forming the Chequamegon Area Mountain Bike Association (CAMBA). In 1990 CAMBA and the Chequamegon community joined forces to turn a confusing maze of ski trails, logging roads & deer paths into a user-friendly system of over 300 miles of mountain bike trails. As a multi-agency partnership with federal and local entities joining with community based volunteers, the CAMBA project has set a high standard for trail construction and economic development in northwestern Wisconsin.
Gary believes one of the greatest challenges facing the mountain bike industry today continues to be maintaining the youthful exuberance and excitement of the formative years of the sport. Focusing on the fun, adventure and innovations of the sport's early days is essential for the long-term health of the industry. An industry that supports grassroots racing promotion, while increasing contributions for trail advocacy will help to insure a continuous source of new riders and places for them to ride.
Bio provided by Gary Crandall, edited by the Hall of Fame.