Don Cook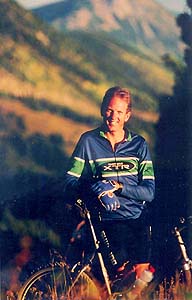 "A class act" in the words of Charlie Cunningham. Don's input both at home in Crested Butte and in California, helped the technological side of biking to progress in a cohesive manner. On the trail, Don first saw, appreciated and rode single track. During flights in his Ultra Light high above the forests and between the peaks of the Elks and West Elk Mountains, He saw possible route links for many of the best single track rides in Gunnison County. The single track experience is greatly enhanced by Don's trail scouting and trail work. His willingness to communicate to riders from California and Colorado made it a better mountain biking world for us all.
An avid, capable, strong rider, Don helped put all kinds of bikes, parts and techniques to the test. Don brought "good bikes" back to Crested Butte from California, spreading the enthusiasm that comes with enjoying progressive technically good equipment. With brother Steve, Don started Paradise Bikes, one of the first Colorado bike shops to cater to the mountain biking market.
Don's involvement in one Fat Tire Stage Race escalated one year when he, Kay Peterson and some motivated friends organized the event. Don went on to win. Don is a powerful, graceful rider and athlete.
In 1993, after 13 years of growing and riding together, Don married Kay Peterson. He Co-directs the Mountain Bike Hall of Fame with Kay.
In 1983 Don and a small handful of riders started a Mtn Bike Club called the Crested Butte Mountain Bike Association. After two meetings the "handful" quit and Don and his wife Kay were left to keep things going. And going they did, as over the years many an enthusiast who visited Crested Butte left knowing they had to go back to their own trails and land managers and execute what Don and Kay had taught them. CBMBA is the oldest mtn bike club in the world and is responsible for spawning the "Club" mentality across the globe. Don has given many hours of backbreaking work to halt erosion damage and protect the beautiful trails that surround Gunnison County and many other areas of Colorado. On the trail work days, hard at work, he encourages many others to participate in local trail maintenance. Don's knowledge helps many companies when he product tests on bikes and cycling component production. You rarely see him without a smile on his face.
Here is a long story Don wrote in attempt to explain and chronologically date the advent of the big wheel mtn bike (29er) which he has been at the forefront of for a couple decades. It was published in August of 2007 by the popular mtn bike magazine, DIRT RAG. This version comes to you via Charlie Cunningham's website, who insisted that DIRT RAG allow him to post it for historic reference.