David Epperson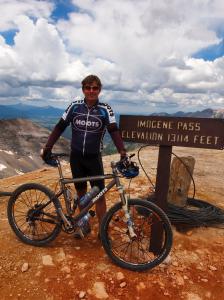 Web Site: davideppersonphoto.com
David Epperson has been on the mountain bike scene since the early 1980's and almost always with a camera in tow. He could be as easily nominated for Pioneer as he could for Journalism. One thing is clear: David's photography and presence throughout the history of mountain biking is an on-going contribution that has profiled and promoted the sport of mountain biking.
It was 1979 when David got a call from an editor with Surfer Group telling him of a company called 'MountainBikes' and that he should "Go check 'em out". He did. That meeting with Gary Fisher, Tom Ritchey and Charlie Kelly reeled him into riding and photographing one of the first 'Thanksgiving Day Appetite Seminars' in Marin County, California. Photographs from that classic ride were perhaps the first major coverage of mountain biking in Bicycling Magazine and that one epic ride set in motion a destiny that spanned photo-journalism, publishing, promoting, racing, advocacy and a life-long love of cycling.
He was founding Editor and Senior Photographer of Bicycle Sport Magazine, where he had the vision of what mountain biking could be and the courage to regularly include photographs and stories of a relatively unknown sport. By 1980, David was one of 'The' photographers to capture the spirit of mountain biking and in 1981, his iconic photograph of a group of riders on klunkers in Crested Butte became the first poster for the Specialized Stumpjumper. Mountain Biker Magazine ran a story titled "20 who made a difference". David was one of the 20 named for "passing the vibe" of mountain biking through his photographic documentation of the " thrilling sport".
The next 35+ years would see David's work profile mountain biking through journalistic and photographic endeavors in publications such as Bicycling, Bicycle Guide, Outside, Mountain Bike Action, Time Magazine, Velo News, Cyclist, Winning and more. His photographs would promote the commercial end of mountain biking for Specialized, Ritchey, Fisher, Moots, Diamond Back, Mongoose, Breezer, Dia Compe, Rock Shox, Cane Creek and more. His cycling photographs through Getty Images have been published worldwide. For all his success, he hasn't overlooked the importance of giving back to the sport: his donated photographs helped launch Steamboat Springs first Bicycle Guide in 2010.
I nominate David Epperson to the Journalism Category in the Mountain Bike Hall of Fame in recognition of his decades-long contributions of bringing mountain biking to the forefront of print media.
Jenette Settle and Charlie Kelly