Joe Murray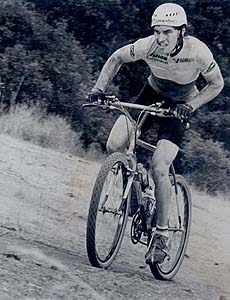 Growing up in Marin County in the 70's, Joe was fortunate to be exposed to this triving cycling community, considered one of the birthplaces of mountain biking. Starting out road racing with a local club, he realized a strong interest competitive cycling. Yet, it was not until his discovery of off road riding, later to become known as mountain biking, did he realize his true interest. His first race at the age of 15 was the "Zero's Notch Race", a gathering of locals, minimal organization, riders wearing Levi's and no helmets, yet the avant guarde of the time. Joe was riding a Schwinn Cruiser one speed up graded with drum brakes and deraillers, the typical ride at the time, finished 1st "novice". Such was the early scene, since the only other class was expert. These experts were the likes of Joe Breeze and Gary Fisher, local heavies: about to realize the beginnings of a cycling revolution.
It was in '83 racing in the largest and most popular mountain bike race, the Rockhopper, Joe finished 4th. Relatively unknown, Joe was soon noticed as someone to reckon with. Sure enough, next year Joe established himself as the one to beat. In 1984 Joe had 8 straight victories, 15 victories for the year and finishing it off as NORBA National Champion. The next year, continuing his success with 12 straight victories (unmatched by any male in mountain bike racing) and a second National Championship. During these two years time Joe established himself as almost unbeatable and the first star of the newly emerging sport of mountain biking. Joe's interests did not stop at racing. Not only a two time National champion for Fisher Mountainbikes, but as test rider and work in product development. He then continued his career as bicycle designer for Marin
Mountain Bikes, Merlin, Kona and VooDoo. Joe officially retired from racing in '90.
Racing history
1980 Zero's Notch Race, 11th overall, 1st novice, first race.
1984 NORBA National Champion
1984 8 straight wins
1985 NORBA National Champion
1985 12 straight wins (to date, unmatched by any male mountain bike racer)
1989 winner NORBA National Points Series Crystal Mountain, WA
1989 6th overall NORBA National Points Series
1990 last season racing.
Other achievements and notoriety
-Raced 233 races in 9-1/2 year career.
-73 victories.
-5 time winner Rockhopper Race, first popular mountain bike race.
-3 time winner Whiskeytown Downhill, one of first "classic" mountain bike races.
-One of the original 8 inducted to the Mountain Bike Hall of Fame.
-First widely recognized mountain bike racer since the sport began.
-Included in Winning Magazine's poster collection, (1985-1986) among Greg Lemond, Bernard Hinalt, etc.
-Among group awarded "Pioneers of Mountain Biking" Interbike 1991.
Research & design achievements
-Designed 10 tires for three companies.
-Designed full lines of mountain bikes for 6 years.
-Designed first titanium mountain bike frame.
-Titanium mountain bike awarded "Best Products" 1989, Bicycle Guide Magazine.
-First to race extensively on titanium frames.
-Designed 1993 Mountain Biking Magazine's Bike of the Year.
-Designed titanium stems, seat post, B.B., bar ends, and forks.