Juliana Furtado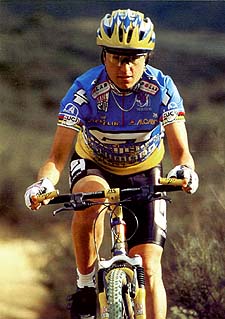 Juliana was born on April 4th, 1967 in New York City.
She was at the time of her career, the best female Mountain biker ever. To think that mountain biking was her fall-back career after a knee injury sidelined her ski racing endeavors
Furtado was the first official UCI Women's World Champion. That title came at the 1990 Purgatory, Colorado event in the cross-country race.
Julie has five NORBA and two World Cup XC Titles, not to mention a downhill world championship.
Velo-News bestowed upon her the U.S. Women of the Year award in 1991.
Her career cycling achievements are:
1996 U.S. Olympic team member
1996 World cup overall , 3rd
1995 & 3-time Crosscountry World Cup Champion
1995 & 5-time Crosscountry National Champion
1994 America's Crosscountry Champion
1992 & 2-time Crosscountry World Cup runner-up
1992 Downhill World Champion
*1991 NORBA National Champion
1989 National Road Champion
7-time World's team member
Juliana was a member of the U.S. National Ski Team from 1980-1987. She also enjoys road-racing and tennis.
Wikipedia says,
Juliana ("Juli") Furtado (born April 4, 1967 in New York City) is an American mountain biker, who began her sports career in skiing. From 1980 to 1987, she was the youngest member of the U.S. National ski team.
In 1989, Furtado won the US National Road Championship and in 1990 she won the cross-country event in (along with Ned Overend) the first official Mountain Bike World Championship, held in Durango, Colorado. In 1992 she won the downhill world championship. In 1996, Furtado won both the World Cup (her 3rd WC championship) and the NORBA (U.S. National race authority) cross-country championships, she also participated in the Atlanta Olympics.
Furtado was inducted into the Mountain Bike Hall of Fame in 1993 and the United States Bicycling Hall of Fame in 2005. Although American by birth, Furtado is of partial Portuguese ancestry.
June 22, 2018 San Jose Mercury News article about Juliana and suicide