John Finley Scott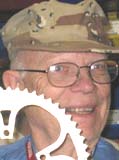 This nomination, written by Charlie Kelly, dated April 18th 1989 was submitted to Carole Bauer, who was curator of the Mountain Bike Hall of Fame at that time. I (Kay Cook) chose to re-submit this nomination for placement on the 2008 ballot.
There is a gentleman who more than anyone else deserves placement into the Hall of Fame. His name is John Finley Scott and he was probably the first mountain bike enthusiast in the United States. In 1953, he built what he called a "woodsie bike", using a Schwinn World diamond frame, balloon tires, flat handlebars, derailleur gears and cantilever brakes. Except for the dated equipment, the bike would not look out of place at a modern mountain bike event (remember this was written in 1989). John was more than 20 years ahead of his time and while he remained an off-road cycling enthusiast, there were not many others who shared his passion.
Over the years Mr. Scott went on to become a University of California Professor of Sociology, and became independently wealthy through a series of shrewd investments. In 1979, Mr. Scott became one of the original investors in MountainBikes, the business started by Gary Fisher, Tom Ritchey and myself. We were probably the only other people he had ever met who also liked riding off-road, and we became good friends. Finley Scott put up $2500.00 worth of bicycle parts that were used on the first series of Ritchey bikes. John is credited with coming up with the name "Bullmoose" bars as a tribute to Teddy Roosevelt who he highly regarded.
In 1981, when a group of mountain bikers from Northern California attended Victor Vincente's Reseda to the Sea race (the first meeting of north and south), we all traveled in Mr. Scott's custom-modified double-decker bus, which was designed specifically for supporting bicycle tours. In this respect John pioneered the establishment of the racing circuit.
These paragraphs do not begin to fully indicate Mr. Scott's influence on the initial manufacture and promotion of mountain bikes, which cannot be overstated.