Carole Bauer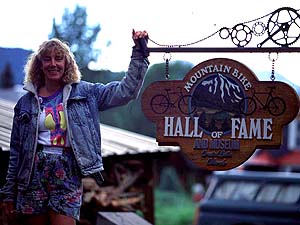 Carole Bauer made her mark on mountain biking in the little town of Crested Butte where she was one of the original "Biking Betties" of the early 1980's.
In 1988, Carole along with Tim Blewett and Dave Lindsay founded the Mountain Bike Hall of Fame and Museum. The concept for the Mountain Bike Hall of Fame was initiated by Crested Butte businessman, Tim Blewett. He pitched the idea for the MBHOF to the Fat Tire Bike Week committee in the mid 80's. The goal was to develop a Hall of Fame for the
Mtn Bike industry in Crested Butte before another community capitalized on the idea. As a business owner Tim saw value for Crested Butte and the business community as well as for the Fat Tire Bike Week festival. Kay Peterson-Cook, FTBW director suggested that the hall of fame should be a separate endeavor. So Carole, Dave and Tim put together the MBHOF. Tim set up the legal and accounting structure and
served for the first few years as the treasurer. It was and still is a great amenity for the town of Crested Butte, one of Mountain Biking's birthplaces. Carole became the MBHOF's first currator.
Always a friendly face, Carole worked her job at the Bakery Cafe in the morning and would dedicate the afternoons to the museum. It is because of her that we mountain bikers have this institution and we honor her for her work.
In 1998,Carole left Crested Butte to live in Hawaii by the ocean and left the Hall of Fame and Museum to Linda Hall and Kay and Don Cook. The Cooks currently run the show.
Carloe Bauer died the summer of 2002, after a struggle with cancer. She is now enjoying that endless single-track up in the sky. Thanks Carole, ride in peace!