Marla Streb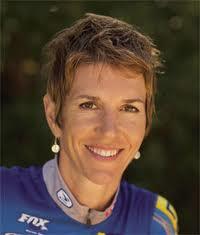 Web Site: www.marlastreb.com/
Marla Streb Nomination for Mountain Bike Hall of Fame
Nominator: Sal Ruibal, MTB HOF 2007
If Marla Streb had not been born, mountain biking would have had to invent her.
Marla has done it all: Racer, Advocate, Teacher, Explorer, Businesswoman and kick-ass rider. The amazing thing is that she didn't start serious riding until she was 28.
"Friends told me people were riding these kind of mountain bikes in the woods and I gave it a try with one of my boyfriends," she says. "That was the moment for me. Mountain biking seemed rebellious and liberating."
As a competitive athlete, she went on to win the X Games Championship, a UCI World Cup in downhill, three U.S. National Downhill championships and, perhaps gnarliest of all, she has twice been Single-speed World Champion.
She's a natural teacher: Marla can ride onto any trail in the world and emerge hours later with a flock of eager riders trailing her as she swoops and flows into daylight.
Marla is also an author. She's written two books, "Downhill: Life Story of a Gravity Goddess" and "The Road Century Book." She's got a fistful of stories published in major magazines including Bicycling, BIKE and has been featured in USA Today. She's a big presence on the digital trail, blogging for Mountain Zone.com and Athletesvillage.com.
Her greatest achievements, however, have come from her heart. Marla – who was an early AIDS/HIV research biologist and classical pianist — has always found a way to make the world a better place.
As a mountain biker, she has been a very public face – and body, at times – of the sport. Marla doesn't touch the brake levers of her emotions and energy when it comes to promoting the sport she loves.
She was in the stunning IMAX film "Top Speed," showing that a woman can shred at the highest levels of the sport. She's put it all on the line in TV commercials for ESPN and other sports broadcasters, showing the world the astounding potential of a bike and a determined rider.
Yes, that was Marla on Dateline NBC and the Today Show. And the cover of Outside magazine. And that very cool Yeti poster that probably got more teenaged boys into the sport than any other photo.
She's got brains to go with her brawn. U.S. Congress members have discussed IMBA bike advocacy issues with her, astounded that this "bike chick" could disassemble their arguments like she breaks down a creaky bottom bracket.
International business is just a bunny hop for Marla. She created a MTB trail design business called Singletrack Jungle and built one of the world's first signature MTB trail systems in Puerto Rico.
Working with the famed LUNA Chix Ambassadors, Marla has been encouraging women to ride for more than a decade.
In her native Baltimore, she's now a thorn in the side of those negativists who want to restrict access to legacy trails, getting involved with local transportation politics, fighting for the rights of cyclists.
There might be a few riders with more world-class wins and there might be some writers who snuck into the Hall of Fame with lesser credentials and we will always need an army of IMBA warriors to keep our trails free, But is there a mountain biker who has excelled in so many different areas? Some have made it to the Mountain Bike Hall of Fame with the strength of their legs or the courage of their convictions, but there will never be a rider with a bigger heart and a sharper mind.
Marla Streb belongs to us. Marla Streb belongs in the Mountain Bike Hall of Fame.