Charlie Kelly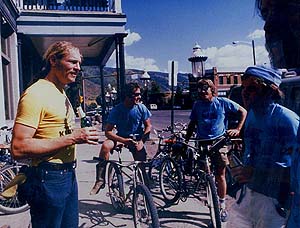 "I became disgusted with car ownership in 1968 when my vehicle died. Took up cycling in 1969 because it beat walking. I rode a ten-speed bike for the first time at the age of 23. Haven't owned a car since."
Surprising news, coming from such a well-known name in mountain biking today. Charlie Kelly was one of the original California riders participating in the Repack Downhill since 1976, and has gone on to promote the sport extensively.
Kelly is now the West Coast editor of Mountain Bike Magazine. He has written for Bicycling, founded and edited Fat Tire Flyer, and wrote the book, Richard's Mountain Bike Book for the Richard's Bicycle Books series.
During the early years, Kelly, Gary Fisher, and Tom Richey formed a team, which solidified many areas of growth in the industry. Between the three of them, rapid advanced were made in mountain biking technology, and encouragement was handed out to the likes of racers including Joe Murray. They all continue to participate in the sport in different areas and have all been elected to the Hall of Fame.
Kelly rode Pearl Pass every year from 1978 to 1986, was a charter member of NORBA, and has served on the NORBA competition committee since 1983. Velo-Club Tamalpais was founded by Kelly and he has been involved as president.
He owned two of the first custom bikes available, which he purchased from Graig Mitchell and Joe Breeze. "Captain Repack," (a title earned by Kelly,) now rides a new American Breezer and has owned four Ritcheys.
Future plans are to continue to write and edit in the mountain biking/journalism arena, and branch out into other subjects. He and his wife Mary live in Fairfax, California.