Paul Thomasberg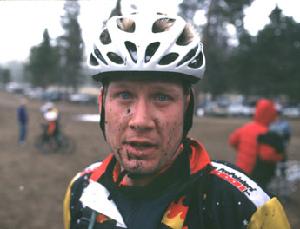 Paul Thomasberg started riding backcountry trails the summer of 1969 in the Tahoe National Forest. In 1976 Paul cobbled together his first "Mountain Bike." It was a bizarre mix of road, cruiser, BMX, and motorcycle parts with 3.0 tires, 18″ motorcycle wheels laced to Phil Wood tandem hubs. By the time he reached high school Paul&squo;s shop teacher Dave Egoff motivated him to work on his experimental bike frame and wheel designs for his class project which Paul earned elective credits.
By 1980 Paul was apprenticing in the back of Wheelworks Bike Shop in Davis learning how to build frames with Kimo Tanaka. Paul and Kimo fabricated a frame that would utilize Paul&squo;s original concept of oversized wheels and tires and bombproof construction so Paul could catch big air. We were basically freeriding in those days looking for cliff drops in the hills and urban jumps in town. I was able to interview Bryn Gabriel, one of the owners of Wheelworks "Paul used to come in all the time with broken parts on his bike but he never seemed to get hurt. He was always in a state of semi-controlled mayhem on his bike; after all he didn&squo;t even run brakes!" Bryn does have kind memories of Paul "Paul is the kind of person that is always true to himself and is always consistent in his integrity. Paul was an asset to our shop."
Wild Bill of "Shade Tree Racing" fame convinced Paul to attend his first mountain bike race in Whiskeytown. It took some pressure to get Paul to race because he was repulsed by the flashy jersey logos. At that time his frames didn&squo;t even sport paint. He soon learned that he could pass many riders on the downhill, but the uphill was a different story, the riders with the lighter bikes would pass him. Paul didn&squo;t do too well this race, but he did finish. In Paul&squo;s own words "I got smoked on all the climbs, but the descents I would pass most of the riders again. I needed to learn how to climb." In defiance Paul returned to Whiskeytown the next season and finished 38th out of 266 finishers riding his 40-pound trailweight mountain bike.
In 1985 Paul wandered into a local welding and fabrication shop to find someone to help him design an extra long seat post for his mountain bike. Rod Moses (Interloc Racing Design / IRD founder) recalls the day "So this lanky blonde haired kid wanders into my shop and says "Dude I need a seat post!" With Paul's influence Rod sat down and created the two-bolt seat post design that is used by many aftermarket companies today. Paul and Rod hit it off and Rod realized the talent that Paul had for design work as well as his ability win races as evidenced by his first big win at the 1985 NORBA nationals. Heavily influenced by Rick Jorgenson (Tango Tandems) Paul designed his first lightweight mountain bike frame with double intersecting seat stays (Soft-tail) 1.5″ down tube, 1.25″ seat tube, 80mm bottom bracket shell, 1.38″ head tube, 140mm 0 dish rear wheel, and 110mm front wheel and names it "The Red Screamer". By the end of that year Rod had designed the first tapered wall handle bar, improved u brakes; and they went to Interbike with the Thomasberg/Interloc show bike. The show bike had revolutionary design elements based on the "Red Screamer" that had not been used before.
By 1987 Paul was recognized for his ability to test mountain bike parts and provide valuable feedback to designers and engineers. He is chosen by WTB to race and evaluate their new product designs. While at WTB, Paul helps test Treks aluminum-bonded framesets.
In 1988 Paul met Brain Skinner from Shimano and was offered bike parts to test. Specialized showed an interest in Paul and his accomplishments on the race course and hires him to race for the factory team along with Ned Overend, Cindy Whitehead, and Daryl Price. Along with testing for Shimano, Paul helped Specialized test the first production carbon fiber mountain bike frames.
1989 Paul moves to Bend Oregon and helps found the Central Oregon Trail Alliance. His work in organizing, supporting, and maintaining the fledgling trail network in Bend helps propel Bend to one on the Northwests favorite mountain biking areas. As a concerned citizen Paul has continued working for trail access with local forest managers, COTA, and IMBA. His work in advocacy is a testament to his devotion to the sport of mountain biking. In many ways Paul could be nominated for advocacy as well.
1989 Paul flips his shifters upside down creating the first underbar shifting system. It turns out that this system works great as Paul races the Revenge of the Siskious in Ashland Oregon. Paul shares this revelation with Shimano.
1990 The World Mountain Bike Championships in Durango Colorado. Despite being sick from giardia for the entire month prior to the race, Paul sets a record that is yet to be broken by finishing 3rd in the downhill and 4th in the cross country event racing for Giant on a carbon fiber prototype. Many racers still like to remember Paul&squo;s wife Rita running in the feed zone with their youngest child Kris strapped to her chest and dragging Terry in the stroller while she handed Paul his feed. A fine example of Team Thomasberg working together from the very beginning.
Paul officially joined the Shimano Skunkworks Team in early 1990 just after Greg Herbold had left for SRAM. Shimano XT parts were the best you could buy for a mountain bike. Paul found his new job exciting and challenging. Firstly why would Shimano create a racing level road component group like Dura Ace but forego the same level of quality for the mountain bike market? XT Race components became XTR and the quality level was made equal to the Dura Ace components.
Wayne Stetina recalls "We had this new guy on our hands that had so much enthusiasm for his work we didn&squo;t know how to calm him down." Paul used his skills and enthusiasm to finalize the development of the first XTR parts group. The main push of this group was to create a level of quality, performance, and appearance that would be as high grade as Dura Ace. Paul&squo;s expertise in testing the XTR prototypes allowed improvements to be implemented faster than before. XTR debuts at The Mt. Snow NORBA Finals to an enthusiastic crowd. Shimano XTR is heralded as the most innovative components for mountain bike racing and becomes the standard for which other parts groups are measured. The first year that XTR was introduced it set new sales records at Shimano that were hoped for, but not expected. The new XTR group was more expensive than anything else made at that time. But it also worked better than any other option available.
Paul&squo;s enthusiasm for XTR has continued over the last 15 years of product development and innovation. "Paul&squo;s skill at expressing his design concepts either through spoken Janglish, sketches, CAD drawings, or hand made prototypes allowed Shimano to create higher quality components much faster. Paul&squo;s passion for designing the best parts possible was almost overwhelming," says Wayne Stetina of Shimano America Corporation. "Without Paul&squo;s help in designing XTR we would not be where we are today. Paul has been instrumental in the design of the disc brake systems. Our disc brakes would have taken much longer to implement if it was not for Paul&squo;s input.
The realities of real world riding as a testing method have grown to the point that quality control in the lab makes up less time then real world testing. "This type of testing is based on what we learn form riding the parts in varying conditions in the field, says Thomasberg. At this point Paul is very involved in testing all the way down to the LX level. Without and his input from the point of conception to prototyping, to field testing, the parts would not be as solid.
The development of XTR over the years from an 8 speed racing group, to the innovation of V-Brakes, Hollowtech cranks, to the 5 year complete re-engineering of the XTR group with Dual Control, to the newest downhill group Saint, we owe a debt of gratitude to Paul for all his hard work and effort to bring the mountain bike community the best possible components available. As Joe Murray put it "Paul made sure that XTR was dialed in!" Paul, Joe, and Hara are always working on the next XTR.
Paul is a man that has made a big difference in the technology and design of the modern mountain bike. Whether it was helping design the new XTR or simply working on the two-bolt seat post design. Paul has helped steer the new ideas that shape our sport and spent many hours innovating these parts and developing them for the masses. How would I describe Paul Thomasberg? Paul doesn&squo;t make the bike parts you buy; he makes the parts you buy better!
Nomination by Mark DeJohn