Rachel Atherton
In 2018 the Telegraph (UK newspaper) wrote that the Atherton family have done more than any other to put downhill mountain-biking on the mainstream map. That remains true to date – and most of the credit must go to the youngest sibling, Rachel Atherton "A one-woman recruitment campaign" for downhill MTB.
Rachel started riding bikes when she was a very young child, following her brothers to the dirt jumps in their village with her pet rabbit in a basket – until Gee told her that he saw a snake! She started racing BMX at 8 and made the switch to mountain biking aged 11 on a bike that Dan had built her from an old BMX frame.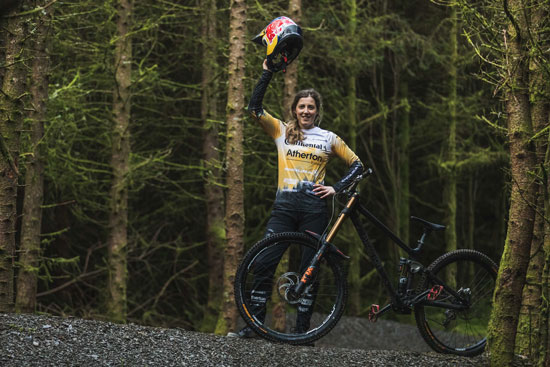 The early years of mountain-biking saw Rachel quickly climb to the top step from her first WC in 2004, to winning her first elite WC in 2006. At the same time, she battled big injuries, she says that at that point in her career her speed & passion outdid her physical strength. Numerous shoulder dislocations have been the plague of her career and she counts a total of 12 shoulder surgeries over those early World Cup years, but the passion to compete saw her seek answers & the Atherton siblings were the first to really showcase and be proud to be "athletes" and train hard in the gym, sharing their lifestyle through the ground-breaking Atherton Project, where Rach's fiery and passionate nature drew her fans in. The Atherton Project was a first-of-its-kind "behind the scenes" show and was instrumental in creating a new image for downhill mountain biking, one of professionalism and physical strength.
Rach strengthened her body & honed her mental craft to a degree unseen in downhill mountain biking before, to overcome the injuries that have peppered her winning career – she says she can't have one without the other! Her injuries make her journey relatable to all, and her admirers say she provides the inspiration for their own grueling rehab and return to action Rachel knows hands down she wouldn't be where she is now without her brothers, growing up following them, racing them, and even using their old bikes and kit, made her strongly aware of other young girls without that support and for many years she sponsored the British Downhill junior categories, giving them the ability to win much-needed bike parts and kit at races.
Rachel constantly acknowledges the debt that she owes to Gee and Dan but her achievements on the racetrack are her own with 6 World Championships (one Junior and 5 Elite) 6 Downhill World Cup Series Overalls and 39 World Cup wins as well as two European Championships and 10 National titles she is the most awarded British mountain-biker in the history of the sport – and hot on the heels of Anne Caro Chausson's record for most World Cup wins ever. She has been awarded Sunday Times Young Sportswoman of the Year, BBC Midlands Sportswoman of the Year, twice BTSport Action Woman of the Year, and Laureus Action Sportsperson of the year.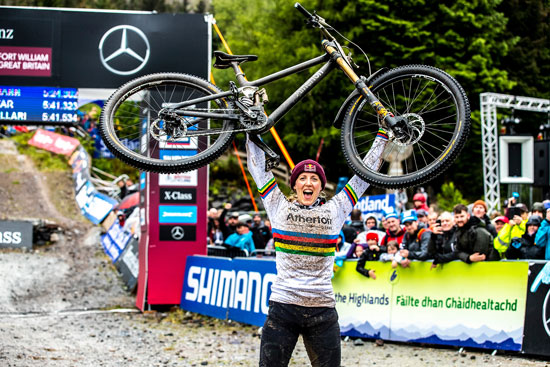 Rachel has dominated Women's Downhill throughout the last decade. 2016 saw her take mountain biking's first-ever "Perfect Season" with 7 wins out of 7 World Cup rounds as well as the World Championships. Victory at Lourdes in 2017 made it 2 full years undefeated with 14 consecutive World Cup wins. Even the end of this spectacular run of form was vintage Rachel. In a practice crash at Fort William, she crashed out hard, re-locating her own dislocated shoulder trackside (viewed online by over half a million fans). The bleep machine was well used that day, but she cemented her claim to the family's legendary toughness.
She is no stranger to hardship, after early years beset with crashes on track, in 2009 a collision with a truck kept her off the bike for a year, in 2014 a viral illness devasted her entire season and in 2017 a World Championships crash left her with a fractured left clavicle. Without fail she has battled back to the very top of the sport. Most recently a ruptured Achilles tendon suffered at Les Get 2019 marked a premature end to her first season on board her beloved Atherton Bike, a season which had already produced 2 wins in 4 races. That injury, in combination with Covid's disruption to World Cup schedules, mean that we haven't seen Rachel on track since. Nobody is in any doubt that she can return stronger than ever.
But we won't see Rachel on track this season, in February 2021 she announced her pregnancy and it's typical of her trademark honesty that she chose to share the news directly after her 12-week scan. Rachel takes her responsibilities as a public figure very seriously and has always been outspoken on issues such as body image. When she discovered she was pregnant she searched for insights from other extreme sportswomen but found little to help her so she has pledged to continue to share a very real insight into her journey in the hopes that it will help and inspire other women riders.
Rachel is very public in her appreciation of how "brilliant" and supportive her sponsors have been but again she has blazed a trail in continuing to take center stage in a male-dominated industry that has had little exposure to pregnant athletes.
Off the track, Rachel has been heavily involved in the development and launch of Atherton Bikes. In true Atherton style the family is championing a manufacturing technique new to the MTB industry, "doing things our own way" is a strong mantra as they strive to progress the sport – and 3 World Cup wins in the brands first season demonstrates that they are getting it right (2 wins for Rachel and one for her protégé Mille Johnset).
Additive manufacturing allows every bike to be custom fit to its rider and minimizes waste and high stockholdings. The obvious benefits both to a rider and to the environment are a driving force for Rachel. She is passionate about bringing new people into the sport and is leading the charge on the development of kids and electric bikes.
She has also been hugely instrumental in the launch of Dyfi Bike Park – again part of her way of giving back to the sport, Rach is never afraid to get her hands dirty with a shovel, you'll often find her managing the sign-on and she is a constant sense -check for big brother Dan Atherton  – consistently insisting that he adapts the trails to be maximum fun for non-Pro riders!
Rachel heads up many of Dyfi's coaching camps and is always particularly keen to mentor young and female riders saying that 'No amount of shopping or make-up will ever give you the confidence that conquering a mountain brings"
This passion and delight in introducing people to mountain biking and racing is clearly demonstrated. She hosted events like Redbull Foxhunt for a number of years and gathered the largest number of female racers the UK has ever seen in one place. Wherever she is riding, from Wales to Whistler, she'll always stop to give advice or ride with any girl who asks her.
She says that she won't put pressure on herself to return to racing but "The challenge to return to the podium after having a baby is real". Rachel will always be a professional mountain-biker – and that journey has only just begun.
Career Highlights
2019 World Cup wins on Atherton Bikes Ft William Rd 2, Andorra Rd 4 1st
2018 World Championship 1st
2018 WC DH Series winner 1st
2016 WC DH Series Winner – The Perfect Season
2016 World Championships, Val di Sole 1st
2015 WC DH Series Winner
2015 World Championships, Andorra 1st
2013 World Championship 1st
2013 WC DH Series Winner 1st
2012 WC DH Series Winner 1st
2008 World Championship 1st
2008 WC DH Series Winner 1st
2005 Junior World Championship 1st