'Fro Riders'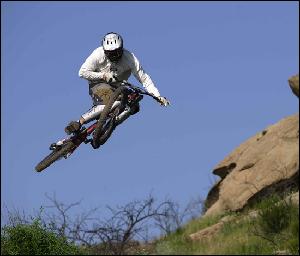 Pinkbike Story on the Fro Riders:
www.pinkbike.com/news/FRO-riders.html
The "Fro Riders" are Richie Schley, Wade Simmons and Brett Tippie. They've been called pretty much everything over the last decade and a half. Freeriders. Froriders. Pioneers. Godfathers. Crazy.
Richie Schley, Wade Simmons and Brett Tippie are all originally from Kamloops, British Columbia. The three have been friends for years and are considered to be the pioneers of the freeride mountain bike movement. They really put the sport on the map when, after starring in three movies, they signed with Rocky Mountain Cycles. "In a way, I always thought it would get big-at least I hoped it would" says Schley. "I'd been a skier and I thought we could do the same things on mountain bikes."
Tippie and Schley have known each other since elementary school. At that time, they knew Simmons but didn't really start riding until they were all in Vancouver, where Simmons was working as a bike mechanic.
"Brett and I were buddies, but I hadn't seen Wade for about 10 years" Schley said. "All of a sudden, there we were, doing this crazy stuff together, three Kamloops boys doing our thing."
As it turned out, Simmons was doing some of the same riding on the coast that Schley and Tippie were doing in Kamloops. Brett and Schley were emulating ski and snowboard bums and Simmons was doing his North Shore riding. Simmons style was slightly different but in the end, it was the same.
As the godfathers of freeriding-Tippie prefers pioneers because "it doesn't make us sound as old" –the three men were signed by Rocky Mountain to essentially ride in extreme situations and be photographed or videotaped.
The trio couldn't be called freeriders, however, as Cannondale, an American company, tried to trademark the name. After being threatened with legal action over the freeride name, the three men appeared in a Rocky Mountain magazine advertisement wearing afro wigs, thus creating the Froriders. It became huge! And so did they, around the globe, over and over, the men went.
"We experienced something that not many people experience-we were at the front of a revolution" says Tippie "We traveled, broke barriers and pioneered new ground. We scared each other…It's been a trip, a crazy trip".
Andreas Hestler comments, "Rocky Mountain Bicycles ushers in Wade, Brett and Richie, fun loving guys with diverse backgrounds in Skiing, BMX and Snowboard. What are they all about what do they represent; Road Trips, Big Drops, flowy styles, big personalities and Baggy Shorts. These three gentlemen single handedly move the industry forward and pioneer a new way to look at biking. They put the culture in and pulled the competition out. Now mom, dad and the kids can ride in loose fitting cloths and spend time on the bike together. Shuttling up to a trail head and wizzing down is ok, viva the Fro-Riders and the new attitude, biking is for all, for fun and it's one of the only sports you can do forever.
Thanks to this trio for the joint venture and strength it took to be whom they wanted to be and stand up in the face of adversity to pioneer a new way of biking. Mountain biking is a young sport and has seen some amazing growth and diversification, much of it non-supporting of the other branches, I think that the roots that are freeride and the additions that it has brought to our sport via the Fro-Riders has been 110% affirmative and has breathed greater awareness and a positive vibe into our great sport."
Read More about them on the website linked above.