Denise Caramagno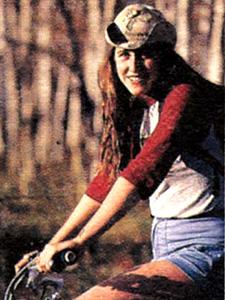 Any time you refer to a mountain bike as a "Fat Tire" bike, you are using a phrase coined in 1980 by Denise Caramagno.
Denise moved to Fairfax from her native New York in 1978, and immediately fell in with the crowd that would later be known for helping popularize the new form of cycling in Marin County. She could hardly avoid the burgeoning mountain bike scene and she was one of the first women to participate in the new sport, often the only female rider in some of the earliest mountain bike races.
In 1980 she became involved in the first publication for mountain bikers, which she named the Fat Tire Flyer. The Fat Tire Flyer was the only regular publication for mountain bikers until the "real" magazines took up the cause six years later, and with Denise serving as publisher for the first three years, it grew from a photocopied, crudely designed newsletter into a graphically refreshing and totally non-traditional magazine.
Denise pioneered both the entry of women into the sport and the visually exciting publications that are now produced in virtually every part of the world. For these contributions, made at a time when few outside a fanatical bunch of crazy backcountry cyclists even cared about mountain bikes, she richly deserves induction into the Mountain Bike Hall of Fame.
Bio written by Charles Kelly