Bob Allen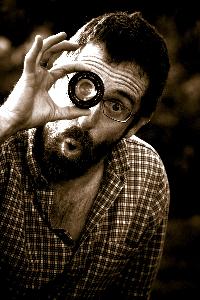 Web Site: www.boballenimages.com
'Montana' Bob Allen grew up in Bozeman, Montana. On a chrome plated Schwinn Stingray he explored the streets and trails near his home. The bicycle gave him the freedom to explore his surroundings under his own power and this two-wheeled passion still drives him today. Joining the Navy out of high school, Bob spent 5 years, 5 months and 27 days seeing the world on Uncle Sam's dime. During those years Bob picked up a camera and began to capture on film what he was experiencing and seeing in his travels.
While stationed in London, England in 1980, Bob's cycling passion was rekindled by a road bike purchase that led to many miles of hairball urban commuting. While plying the waters of the Pacific aboard the USS Tarawa in 1983 he purchased another road bike in Singapore and has fond memories of dodging rabid monkeys during high-speed road descents in the hills that surround the Subic Bay naval base in the Philippines. It was during the waning days of his naval 'career' that he was given a gift subscription to Mountain Bike Action and read articles by Zapata Enchilada, or whomever, and was curious to give this mountain biking a try. It was in Okinawa, Japan on November 15, 1984 at 10:15 a.m. that Bob bought his first mountain bike – a chrome plated Nishiki from a local Japanese bike shop. At approximately at 10:33, while dropping the steeps (as seen in said MBA magazine) between two terraced rice patties, he went over the bars for the first time and was immediately challenged by this aspect of riding a bike.
Following the Navy, Bob spent a few years behind the Orange Curtain in Southern California attending Orange Coast College studying photography and racing road bikes. On a fateful Sunday morning while sitting on a curb patching tubes after a double flat on the Pacific Coast Highway just north of Laguna Beach, Bob watched a bunch of baggy short wearing, smack talking mountain bikers blow by him. Wherever they were going, it looked like way more fun than another death defying road ride on the PCH.
It took some time to track those riders down but once Bob discovered the Laguna RADS, riding in the dirt has never been the same. During his time riding in those coastal hills, he learned to appreciate quick release seats posts, how to remove cactus spines on the roll, identify and avoid poison oak, drink beer off his forehead, and in 1989, became a card carrying member of this twisted boys club. The moniker of Montana Bob was given to differentiate between other RAD Bobs. During this time he worked at Cook Bros. Racing building bike parts, getting a lesson in guerilla marketing and attending his first Interbike trade shows. It was with the RADS that Bob learned the art of riding with camera gear and capturing the action as it unfolded.
On one RADS Wednesday night 'confession' ride in 1988 Bob witnessed a cheeky, foreign accented, longhaired dude in sweat pants pilot a mountain bike with unimaginable skill. This was the first time Bob heard of some guy named Hans Rey – and the sport of trials. Over the next year the pair got out frequently to photograph, refining their individual craft. Bob points to one photo shoot with Hans in particular that jump-started his photo career. Before a move back to England in 1989, and initiated by a dare, Bob and Hans plotted to capture a trials session on a grid locked 405 freeway in Orange County. The location, timing and get-away route was meticulously researched and planned. With appropriate back up from the RADS, the sixty seconds of action captured Hans mid-air above 5 lanes of disbelieving commuters; and the rest is history. In the years that followed Bob and Hans would team up to explore many avenues of worldwide fat tire tomfoolery and gratuitous self-promotion – and in the process helped expand our imaginations as to what is possible on a mountain bike.
Bob spent the early 90's shooting World Cup and NORBA races in North America and Europe making many lasting friendships with the folks who made a living from all things racing. He learned the exacting photographic techniques involved in correctly exposing color transparency film and was one of the first photographers to experiment with supplemental studio strobe lighting in the field. In the mid-90s Bob quit chasing racing to explore and photograph the adventure travel aspect of our sport for the magazines and manufacturers. Bob's photographic vision and involvement in the sport has contributed, and continues to add, to the collective memory and evolution of mountain biking.
Now living back in Montana, Bob has become intimately involved in the land access debate where public land mountain bike policies have closed hundreds of miles of singletrack, and threatens to close hundreds more, all in the name of protecting the resource. He is a founding board member of the Montana Mountain Bike Alliance that advocates for protecting bicycle friendly trail opportunities across the state. Using his experience, photographic skills and media and industry connections, Bob has contributed much time and passion towards maintaining bicycle access to backcountry trail systems. Getting out to rally on sublime singletrack still makes his pedals go round.
Nomination/Bio By Tom Moran edited by Bob Allen