Steve Cook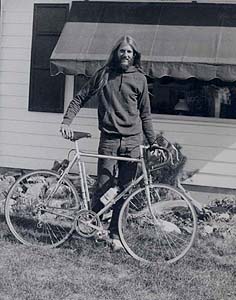 Steve Cook represents the prototypical mountain bike racer. He built his first klunker in Durango, Colorado the spring of 1980. He wanted to explore the high passes around Telluride, Silverton and Durango. Bicycles had appealed to him since he was just a youngster. He commuted to school and work until he finally got his driver's license when he was 22.
After visiting his younger brother Don, in Crested Butte, Colorado, and seeing what was going on there with klunker technology, he made the permanent move to the Butte in August of 1980, to train and race. He rode harder and harder, until he placed second in the NORBA Nationals in 1984. He was a featured personality in the bicycle racing magazine of the times, "Winning".
He has now graduated from an old steel frame to a custom built Ibis frame, Wilderness Trail Bikes fork and Ritchey Bullmoose bars. Owning his own bike shop, Paradise Bikes and Skis, has allowed him to try many different products and tell others what works best.
"From the first day I started riding a mountain bike, I was always trying to get others to join the fun. With free time I would ride in other ski area towns in Colorado, talking it up and trying to draw others in. When racing came around I raced not only to try and win but to give the sport a shot in the arm. Grassroots sports like mountain biking need a recognizable "Big Gun" to draw attention to, and I'm that guy. I even raced my mountain bike in Cyclo- cross races to break the ice with the road racers, winning the state championship once.
After racing came to an end in 1988, Steve assuredly discovered the famed " single-track" that's around Crested Butte, a vast network of trails on the National Forest. He spent a great deal of time making directional signs and installing them, so customers of his who rent bikes can go out and find their way around.