Stan Koziatek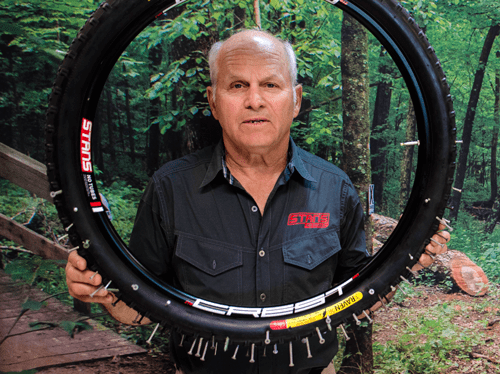 In the year 2000, a rumor began circulating around bike shops and mountain bike races. A guy in New York had figured out a way to replace traditional inner tubes with a liquid that could seal punctures almost instantly, improve traction and control, and even make tires roll faster. On top of all that, the converted tires and wheels were lighter. It sounded too good to be true. Racers began to ask questions about the process. There was tape to seal the spoke holes, and a special strip that changed the interior shape of the rim. The inventor was developing a complete tubeless system that could work on many different rims, and with nearly any tire. And it was faster. By the time World Champion Thomas Frischknecht had raced "Stan's NoTubes" system to its first major win, pro teams, tire and rim manufacturers, and riders around the world were asking two things: how can we go tubeless, and who is Stan?
Nothing about Stan Koziatek's background suggested he would one day play a major role in the evolution of mountain bikes. For many years Stan worked in heavy road and highway construction. In 1987, he left that job to found a company with his wife, Cindy. KG Motors began as a used car dealership that soon added a car wash. Stan and Cindy constructed the building themselves, laying out the design, pouring the footers, and installing the equipment. That same work ethic was applied to his next venture, a go-cart track. It was here that Stan started designing his own custom rims and components and working with tire manufacturers to improve durability, but his first innovation would be on the course, not the carts.
Located 20 minutes from the legendary Watkins Glen International race course, and directly under the incoming flight path of visiting legends such as Richard Petty and Dale Earnhardt Jr., this was not your ordinary go-cart track. Competition was fierce and finishes close (especially among drivers and pit crews). In the early 1990s, with only basic electrical training, Stan developed a method for charging timing transponders using the go-cart engine's exhaust cycle spark. He patented the design and eventually sold it to one of the largest manufacturers of timing equipment. Stan had been developing creative solutions to solve problems his entire life, but it was clear now that other people too could benefit from his ideas.
In the late 1990s, looking for a way to stay in shape for ski season, Stan borrowed his daughter's bicycle. He knew from that first ride that mountain bikes were something special. With their larger wheels and tires these bikes had the potential to go almost anywhere. Still it was clear there was room for improvement, particularly when it came to flat tires. Having helped design more durable sidewalls for go-cart tires, Stan knew a tubeless system could offer major improvements. Some early attempts at tubeless mountain bike tires were available, but they offered few tread options and were heavy and unreliable. Stan started figuring out how to convert his favorite tires for use without tubes. Through constant trial and error, he developed his first batches of sealant and his rim tape.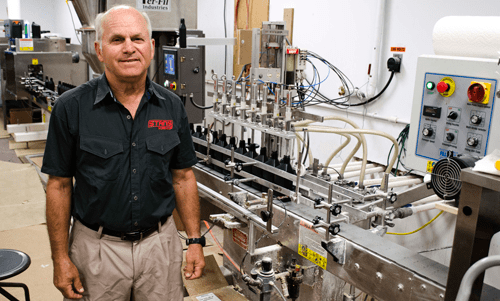 Stan created his own machines and testing methods to measure the effectiveness and durability of sealant, testing hundreds of formulas. Other factors were tougher to test. Without tubes the bike felt faster, but it was tough to be sure. Stan started entering local races as an amateur and winning his 45-50 age group, in blue jeans at first. By 2001, he was in the pits at major events, working with pros such as Alison Dunlap, that year's UCI XC World Champion. The lap times were proving it: tubeless was faster. Racing would continue to be a huge part of Stan's testing process, and play an even larger role as he began developing his own rims.
In 2001, Stan and Cindy founded Stan's NoTubes and began offering products to consumers, dealers, and distributors. As his sealant became increasingly popular over the next five years, rim manufacturers continued to send Stan rims to test for tubeless compatibility, he learned a great deal about optimal rim shape and why some rims converted to tubeless more easily than others. To test his ideas about rim shape, Stan turned down enormous pieces of aluminum on a lathe. Those early test rims (some of which he still has) weighed 30 pounds, but they let him make design adjustments quickly. Though common now, Stan's original tubeless rim design was radically different at the time. One factory went so far as to tell him it wouldn't work. The design not only worked; it worked better. Wider than many designs at the time, Stan's rims featured a specially shaped inner channel and extremely short sidewalls that allowed tires to expand to their full volume. Supported by five patents, Stan's Bead Socket Technology rim design has since been ridden to many national and world championships, and multiple Olympic medals, including a gold medal won by Sabine Spitz in the 2008 Beijing Olympics on Stan's rims. The design has played a key role in establishing modern tubeless technology.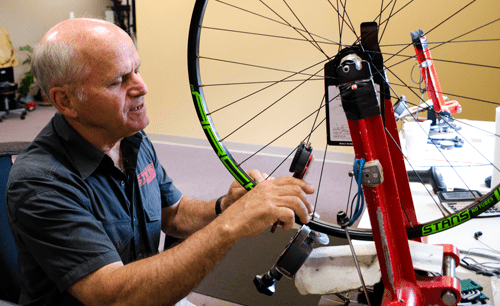 True to the racing heritage that helped establish his designs, Stan's NoTubes has played a key role in sponsoring athletes, races and events, and supporting a wide range of trail and cycling initiatives. It has become particularly known for supporting women's cycling and the development of young riders. The company is committed to the preservation of trails as a supporter of IMBA and many local trail and advocacy groups. The company continues to be a strong supporter of mountain bike racing, and any event that brings riders together.
Today, Stan works primarily with carbon fiber designs and fabrication processes, but in true Stan fashion, it's not unheard of to see him working on the sealant machines or building up a new wheelset for a customer. He continues to develop new products and to find new problems to solve.
written by Chris Currie and Stan Koziatek