Colorado Plateau Mountain Bike Trail Association -COPMOBA-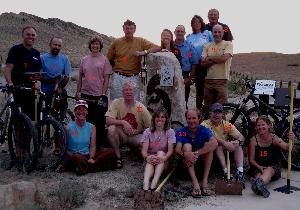 Web Site: copmoba.org
In the Photo–
1) Paul Koski – Paradox Trail Founder, Board member
2) Dan Antonelli – Board member, Forest Service liason
3) Giselle Smith – Board member
4) Pat Kennedy – Board member, BLM Northwest RAC representative.
5) Nattana Johnson – Board member
6) Scott Winans – Board member
7) Jen Taylor – Board member, secretary
8) Chris Muhr – Board member
9) Chris Herrman – Past President
10) Amy Day Agapito – Coordinator
11) Bill Harris-Board member, Uncompahgre Chapter Chairperson,Past President
12) Collen Craig – Board member, treasurer
13) Clark Rieves – Board Member, Past President
14) Gary Smith – Board member
15) Anne Keller – Board member
COPMOBA
To view a slideshow of COPMOBA through the years copy this link and then paste it in your browser– http://picasaweb.google.com/trailguru.harris/ScrapbookJpg#
"20 years of building'em, so we can ride'em" will be the slogan to bring attention to the Colorado Plateau Mountain Bike Trail Association's (COPMOBA) 20th anniversary celebration in 2009. In 1989 western Colorado mountain bikers and local land managers from the Bureau of Land Management (BLM) decided to work together to "reach through the bureaucratic barbwire to make things happen". The result of that initial effort was the development of the 144-mile Kokopelli's Trail, connecting Loma, CO and Moab, UT and the formation of the Colorado Plateau Mountain Bike Trail Association (COPMOBA).
COPMOBA was formed to coordinate the development of additional long distance trails, bolster community support, work with federal land managers and represent mountain bike interests. In 1990 COPMOBA used the same formula to open the 142-mile Tabeguache Trail, connecting Grand Junction, CO and Montrose, CO. The Kokopelli's and Tabeguache projects were so successful that the BLM used the lessons learned from the COPMOBA experience to develop a national recreation and trail policy that ultimately lead to a National Mountain Bike Strategy.
In 1995 a third long distance trail, the Paradox Trail, was added to the COPMOBA system creating a 345-mile "Grand Loop" of mountain biking. COPMOBA has developed hundreds of miles of mountain bike routes and built dozens of miles of trails. Loop systems along the Kokopelli's and Tabeguache trails have been recognized as some of the best-stacked loops trail systems in the country. COPMOBA has touched over 75 trails in the region through its trail advocacy and trail development program.
COPMOBA has been a leader in the development of innovative mountain bike trails. The technically challenging Moore Fun Trail, and Rustlers Loop, the first interpretive mountain bike trail, were developed in the early 2000's. In 2007 the first BLM sanctioned "freeride" trail was built in the Lunch Loop area near Grand Junction. In 2008 COPMOBA, Hilltop House and the BLM completed Kids Meal trail, a kid-specific interpretive mountain bike trail.
COPMOBA has received numerous grants from IMBA, REI, and Colorado State Trails Program to fund trail projects. COPMOBA has organized over 150 mountain bike trail events partnering with other groups, businesses, and land agencies to provide more and better trails. Ongoing trail projects include new trails in the Lunch Loop and Bangs Canyon area, Palisade Rim, Gateway, CO, Grand Mesa and Ridgway, CO.
COPMOBA's effectiveness can be attributed to a collaborative, common sense approach towards trail development. Maintaining a respectful, professional relationship with land managers paved the way for trail projects. Construction of sustainable trails followed up by maintaining those trails demonstrated public land stewardship. Support for mountain bike ethics and responsible riding built trust and respect. COPMOBA's approach has been emulated and expanded upon by advocacy groups throughout the country. COPMOBA is a true pioneer in the realm of mountain bike trail development and advocacy, and has earned a place in the Mountain Bike Hall of Fame.
Submitted by Bill Harris