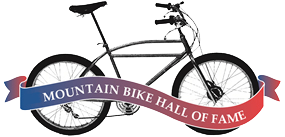 THE MOUNTAIN BIKE HALL OF FAME
Mountain Bike Hall of Fame to relocate from Crested Butte, CO to Marin County, CA
By Mark Reaman, The Crested Butte News, Wednesday, 14 August, 2013
"If it's not going to be here, it should be there…"
The Mountain Bike Hall of Fame and Museum has moved out of the location it has occupied since 1988 in Crested Butte, Colorado to relocate to Fairfax, California in Marin County in the new Marin Museum of Bicycling, slated to open in early 2015.
According to former Crested Butte Hall of Fame co-director Don Cook, the move provides an opportunity to grow the Hall of Fame and take it to a new level of exposure and awareness.
"There is certainly some sadness to the Hall of Fame and Museum leaving Crested Butte," he said. "It's been a great presence. Kay [Peterson-Cook] and I have been so privileged to have had this opportunity. It's been a great run and now there is a wonderful opportunity to grow the museum and hall and benefit the sport in general and we need to step aside. It will be going to a space that's been specifically renovated and assembled for the Mountain Bike Hall of Fame to move into."
Cook cited several factors that convinced the board of directors to vote to make the move. Fairfax in Marin County is steeped in the history of early mountain biking and according to Cook, "Fairfax is the true birthplace of the sport. Klunkers were being used in Crested Butte at the same time for commuting around our pot-holed streets. In Marin the sport aspect was a real focus. From there it grew into what is now known as mountain biking. Crested Butte was quick to pick it up and the history exploded out here after about '76 with the Pearl Pass tour. The idea of a mountain biking festival started here and really popped. It's been emulated across the globe. Now the California guys were coming to Crested Butte to ride. They had the technology and we had the terrain.
"They have asked us for years to consider moving the hall," Cook continued. "They were able to secure a good-sized building to house the items and give it the space it needs to grow. Serious historians of the sport will be running it—Joe Breeze, Marc Vendetti and Otis Guy. It's a chance to move it to a place where the sport was born and be housed in a building dedicated to the sport and having inductees again at the helm all make it a good package that can take it to the next level."
Being relocated near a city like San Francisco that draws 11 million visitors a year isn't a bad reason as well, said Cook."They'll be able to market it to a lot more people with the population base. There is the opportunity to take it to new heights."
Crested Butte Mountain Heritage Museum executive director Glo Cunningham said she is "sad" to see the museum relocate out of Crested Butte. "The Mountain Bike Hall of Fame has been a great draw for the museum in general," Cunningham said. "It is understandable to move it up a level…. And because Crested Butte and Marin County together are the driving forces of mountain biking, if it isn't going to be here, it should be there."
Some history on the history
Carole Bauer-Romanik started the Mountain Bike Hall of Fame and Museum in the late 1980s. It was originally located in the downstairs space of Donita's Cantina. It was moved around town to several locations and actually went into storage in the mid-1990s.
"That's when Kay and I and Linda Hall decided that that couldn't happen," said Cook. "We dusted everything off and it went into the Crested Butte Heritage Museum, which was then located in Botsie's old house at Second and Sopris at the time."
Cook continued, "We moved over with the museum when Tony's Conoco was purchased for the museum site. We started working with Susan Medville on how to have a museum within the museum and it worked really well. From the bottom of our hearts, we couldn't have kept it going without the Heritage Museum and its great staff and prime location."
Cook said he and Kay have been volunteering hundreds of hours every year to keep the museum and Hall of Fame going. Now they want to take some of those hours and refocus them on their restaurant, Donita's Cantina. Each year the Hall of Fame induction ceremony is held in conjunction with the Interbike trade show in Las Vegas.
Cook believes the shift will improve the awareness of the sport throughout the world. "Kay and I have learned a lot. We've been putting the history online and it's always, good or bad, had a Crested Butte slant," he said. "Frankly, more than skiing, it has been mountain biking that helped put Crested Butte on the map. This move may expose the many segments of mountain biking and open it up even more. We simply don't have the space here to honor all those other segments of our sport.
"Honestly, if it's not going to be here, we're glad it is moving to Fairfax," Cook continued. "It deserves it. There is great riding and great history there. Moab was also considered, though Fairfax is just the right fit."
It's more of a global presence
Cook did say he felt the local support in Crested Butte had dwindled and the museum and Hall of Fame was being taken a bit for granted. "It's really not on the locals' radar as much as it once was. The Hall of Fame is recognized more nationally and internationally than locally," he said. "There are a lot of reasons to make the move when a great opportunity like this has presented itself. It will always have its origins here. It started in Crested Butte and it's a good thing Carole gathered all the stuff and the stories and the memories of those early days. It would be pretty selfish of us to say no to the request from the Fairfax guys and not let it go to the next level."
Cook expressed great thanks to the Heritage Museum board and staff for allowing them a space in the facility. He also expressed gratitude to former Heritage Museum director Susan Medville for her help in putting together the space for the Hall of Fame. That gratitude extended to the current staff and board for supporting the Mountain Bike Hall of Fame.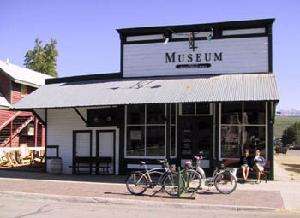 And with the annual Pearl Pass Tour to Aspen being the oldest mountain biking event in the world, Kay and Don will keep history alive in Crested Butte by continuing the tradition that started all this Hall of Fame stuff in the first place.
"The museum really wants to thank Don and Kay for working so hard to have it here," Cunningham said. "We've been very fortunate."
PS:  Since the move to Fairfax, Don and Kay have been busy rebuilding their local mountain bike museum, now called the Crested Butte Klunker Collection. Next time you're in Crested Butte, be sure to check them out!
Join or Renew your Hall of Fame Membership Today!
We have 2 ways you can join or renew your membership.  For those of you who are comfortable doing things like this online, choose number 1 below. For those of you who would rather have a piece of paper in your hand to fill out, choose number 2 below.  If both of these choices are still too confusing, just give us a call or drop us a line and we'll be happy to help you- we want to make it as easy as possible to join!  Our contact info is on the Contact Us page.
1. Click here to renew or apply for your Mountain Bike Hall of Fame Membership online.  This link will take you to the secure Membership Application page where you will find the Mountain Bike Hall of Fame voting membership and all the other types of memberships which include membership in both the Hall of Fame and the Marin Museum of Bicycling. These are definitely the way to go to be part of all the action.
2.  Click here to download our membership flyer. This will give you a paper form which you can print and fill out by hand and mail to us.  It also includes an order form for our Legacy Brick Fundraising Campaign.
Thanks for your support!