SockGuy Socks M-Z
$10.95 – $14.95
SockGuy…
maintains the highest standards to deliver the best performance socks on the market today. Their socks hug your feet in style and comfort and are built to last. All of their socks feature more ultra-wicking fiber and our exclusive super-soft yarn so your feet stay dry, cool and comfy no matter how hard you play. SockGuy socks are designed by award winning artists and feature unique graphics that capture cool up-to-the-minute trends and designs.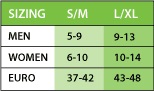 All of their socks are proudly Made in the U.S.A. and feature their Stretch-to-Fit™ sizing system and their exclusive Easy-Fit™ cuff for a perfect fit every time on any foot.
Classic
Their most popular socks feature off-beat, original designs that appeal to a broad range of athletes, from professionals to weekend warriors to multi-sport enthusiasts who like to have unique socks to match their personality and attitude.
SGX™
SockGuy's SGX™ socks are designed with the elite athlete in mind and feature their exclusive EASY-FIT Compression Comfort formula, a balanced blend of PolyPro, nylon and spandex. Their  SGX™ sock line provides a seamless toe, a relaxed compression fit, enhanced performance ribbing and more moisture wicking ventilation. These socks feel great, look great, and with SockGuy's signature Stretch-to-Fit sizing and reinforced toe & heel, SGX™ socks perform like no other. Guaranteed to be the most comfortable compression-fit socks you'll ever wear.
Crew
Made with 75% Ultra-wicking Micro Denier Acrylic, 15% Nylon, and 10% Spandex for exceptional comfort and strength. Their crew socks, like all of their socks, feature the Stretch-to-Fit™ sizing system and their exclusive Easy-Fit™ cuff for a PERFECT FIT every time on any foot. These features create superior softness and comfort and help eliminate blisters and hot spots. They  also feature a double stitched heel and toe for added strength and durability.