SHARE THE FUN!  VOLUNTEER WITH US!
Picture yourself as part of the team at the Marin Museum of Bicycling and the Mountain Bike Hall of Fame! The Museum is entirely run by volunteers — we have no paid staff. We have many volunteer opportunities and the rewards are great. Volunteers who staff the museum Thursday-Sunday get to meet visitors from local areas and all over the world, hear fascinating stories and share their love of cycling. Volunteers for special events get free admission to the events they staff. Our volunteers also help with the upkeep of amazing bicycles, create posters, perform carpentry and repairs and collaborate on special projects. It feels great to get involved in our community and share the love of cycling. We need help in many areas of the museum such as:
Museum Staffing
Front Desk/Admissions/Gift Shop*
Database maintenance*
Docents/Guides/Educators(¹)
Fundraising/Grant Writing*
Marketing*
Events/Outreach*
Archiving/Researching
Communications & promotions
Graphic arts
Facilities maintenance
And more!
* Most urgent need
TEST
If you are interested in sharing your talents with us for any of these positions (or something else), please fill out the Volunteer Application form below.
To give you more of an idea of what's involved in serving as a Front Desk volunteer, a typical assignment for our daily staff, we have created a position description and have posted it below for your viewing pleasure.
Thank you so much for your interest in being a part of our volunteer team. We hope to receive your application soon!
---
Volunteer Application Form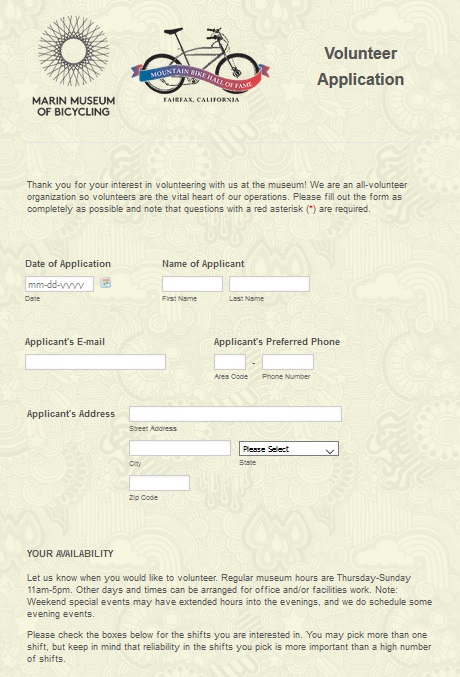 (Click the form to fill it out online)
(
Click here for a downloadable version
)
---


Enjoy this Pacific Sun article about what it's like to be a docent:
What is the definition of a Docent?
(¹)do·cent
A person who acts as a guide, typically on a voluntary basis, in a museum, art gallery, or zoo.
A member of the teaching staff (in certain universities and colleges) immediately below professorial rank.