Buy a Brick on Our Mt. Tam Legacy Wall!
A great way to support the Marin Museum of Bicycling and the Mountain Bike Hall of Fame!
Situated in a prime location in downtown Fairfax on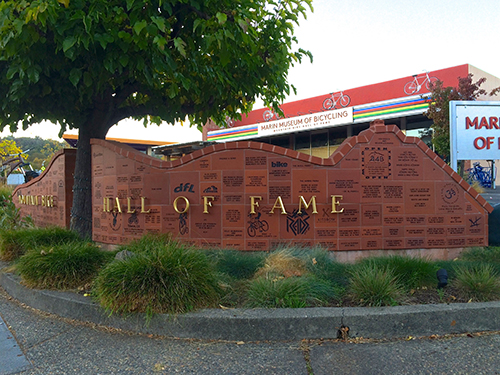 the busy corner of Sir Francis Drake and Claus Drive, the Legacy Wall is over 33 feet long and 4 feet high.
Its design is the profile of the famous "Sleeping Maiden," Mt. Tamalpais, including her three peaks and Bolinas Ridge.
Red brick tiles on the wall feature custom-engraved messages from Museum/Hall of Fame supporters. The Legacy Wall serves as the main street sign for the Museum and has become a major landmark in the Town of Fairfax. Your brick tile purchases are tax-deductible donations, supporting the capital costs of the museum.
Your legacy will live on in your choice of 4" x 8" or 8" x 8" bricks.  Each size has its own configuration details for engraving. All bricks come with plain text engraving. If you like, logos and custom graphics can be included on the 8×8 size for an additional $75 per brick.
You may order multiple bricks in any combination of sizes.  Click here to order online or download the order form to mail to us with your check.
$  250      4×8  Inscribed Brick (includes 1 year free museum membership)
$  500      8×8  Inscribed Brick (includes 1 year free museum membership) (custom graphics available*)
Note: 12×12 bricks are no longer available.
Extras:
Custom graphics setup charge $75 (Plain text is included in base price)
Extra copy of brick $50 (any size, but only if purchased with original order)
Printed donor's acknowledgement certificate suitable for framing $15
NOTE: We are currently accepting orders for the last section of the wall. Don't miss out! Order soon to have your brick included in this important project!
Be a part of cycling history—be a part of the wall!

Need some ideas?  Check out these other bricks…