BikeMuse News – Number 3
Chainless Revolution: What Goes Around Comes Around

By Joe Breeze  June 18, 2020
All photos by Joe Breeze unless otherwise indicated
All scans from Marin Museum of Bicycling Archives
You can click on photos to enlarge them and read more information
When it comes to 19th century bikes, high-wheelers are the iconic form, and in a roomful of early bikes the high-wheel bikes always attract attention. It's fascinating to stand next to an enormous wheel, try to understand how a rider gets aboard, and imagine the brave souls who mastered those bikes on the rough roads of the 1870s and 1880s. In garnering attention, a shaft-driven bicycle is a distant second. You have to look closely–it would be easy to gloss one over as just a common bike in need of a chain. In fact, the drive system is tucked away within the frame. Our museum is lucky enough to now have several examples of this technology, which made a brief appearance in bikes starting in the 1890s and then found a more lasting place with automobiles, made by many of the same builders.
The seed for the drive-shaft bicycle was likely sown by one Ephraim Shay, who in 1877 invented a logging locomotive for rough and steep track. The trick was to drive all eight wheels of the locomotive in two separate, flexible, four-wheel bogies. Two or three vertical steam cylinders created the power, and a drive shaft delivered it via bevel gears on the wheels. Thousands of Shay engines would be built in Lima, Ohio through the early 20th century. Heisler Locomotive of Erie, Pennsylvania, built similar drive-shaft engines. Most were used for logging, but some found their way to the Mt. Tamalpais & Muir Woods Scenic Railway, which ran from Mill Valley up the mountain from 1896 to 1930. (See my story on the Mt. Tam locomotives here.)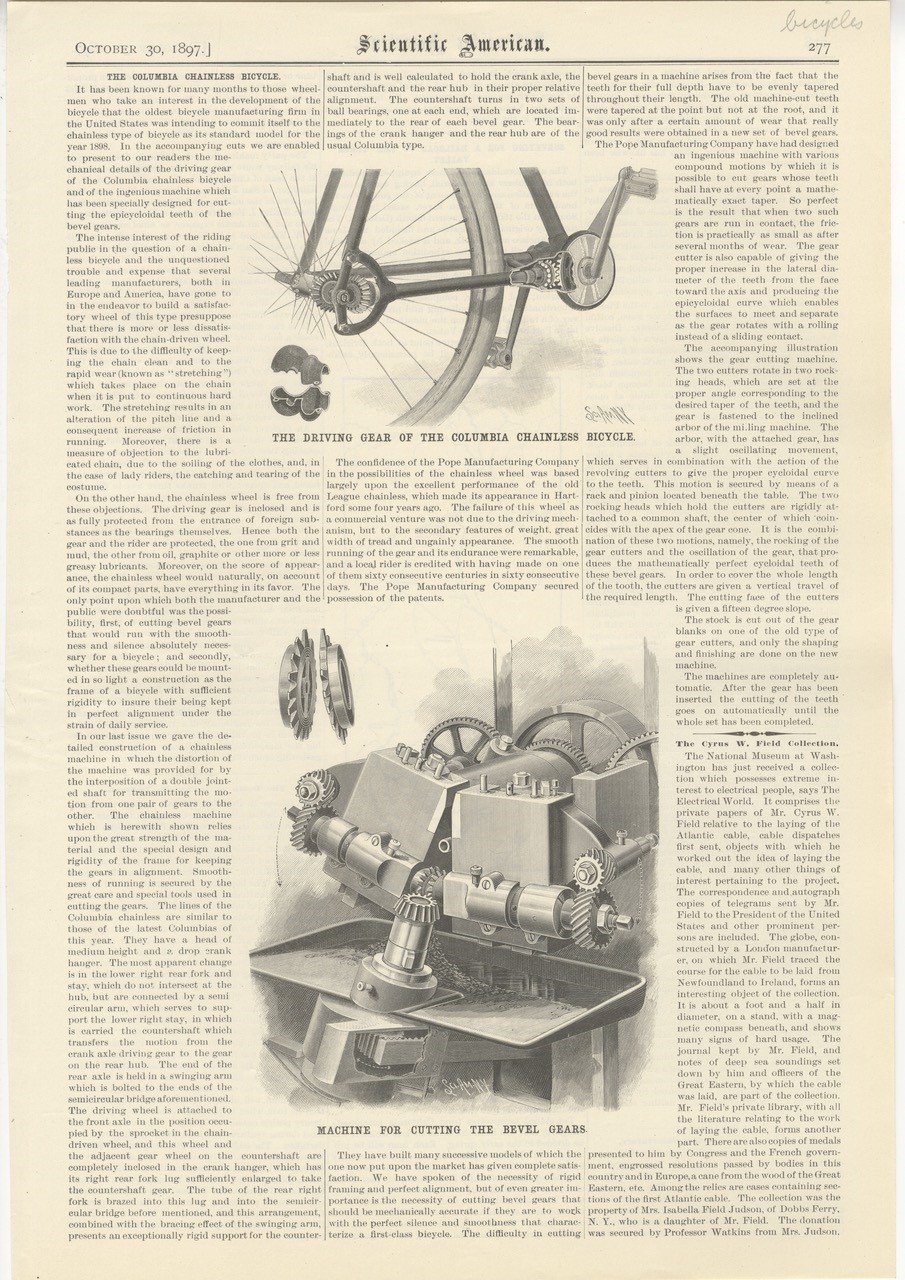 In the last decades of the 19th century, scientific and technical journals were abuzz with drive-shaft technology.
That same period saw an explosion in inventions for the exciting new vehicle for personal transportation: the bicycle. Why not marry the two?
Making bevel-gear shaft-drive components for bicycles only became practical and feasible in the 1890s, when new milling and turning machines offered the necessary precision. This development was nicely timed with that decade's tremendous boom in bicycling. By the early to mid 1890s, bicycles had two equal-size wheels with pneumatic tires, so they were easy for anyone to ride. And everyone wished to buy a bike, hop on and experience the freedom and fun of exploring town and country on their own two wheels.
So the possibilities of the drive shaft bike had to be explored. The obvious (and true) selling point of a chainless was the cleanliness of the machine (and you), with the drivetrain hidden away in a sleek enclosure. Never mind that a chaincase could accomplish the same on a chain bike.
Marketing took it from there and announced the chainless bicycle as the new quicker, faster, better solution that everyone clamors for. Drive-shaft bikes were hardly cheap to make, but thousands would be sold.
The League Cycle Company of Hartford, Connecticut, was first out of the gate with a viable chainless bicycle, in 1893. Our collection includes an 1894 League. Our bike still has its protective cases of aluminum (a fairly new metal) surrounding the bevel gears front and rear.
In 1897, the League Cycle Company foundered, and Pope Cycle, makers of Columbia and the biggest, most powerful company of the day, bought their patents and tooling. Albert Pope, who had been a major driver of the American cycle industry since 1877, seized the opportunity and began making a tremendous push for the shaft-drive system. Soon, in the US alone, over 20 makers of "chainless" bicycles were following in the wake.
In 1898, cycling star Marshall "Major" Taylor was sponsored by Waltham Manufacturing. That November, Taylor beat the world mile record by a fifth of a second on Waltham's Orient chainless. That feat attests more to Taylor's strengths than to the bike's drive system.
Taylor was rising to the top of the sport despite the intense racism and discrimination he faced as a Black man in the Jim Crow era. A powerful and brilliant racer, he asked steadily for fairness and equal treatment, but constantly faced injustices.
In 1899 he won the World Sprint Championships, on a chain bike. He became the highest paid athlete of the day, and his association with chainless bikes helped legitimize the product.
Our Igler collection includes a chainless 1901 Pierce Pan-American "Ladies Model", by The George Pierce Co. of Buffalo, NY. This model promoted Buffalo's Pan-American Exposition of that year. Its drop frame allows for easy step-through mounting; this general shape was standard for women's bikes since women generally wore skirts or dresses. Given that skirts or dresses draped near or even into the drivetrain area, an enclosed drivetrain was bound to be a plus. Our 1901 Pierce also has rear suspension: there's a housed coil spring on the seat stays, and a frame pivot around a large ball bearing encircling the crank spindle.
The shaft-drive components of the Pierce chainless were produced by Henry Leland, future founder of Cadillac cars (1903). Leland was known for his precision machining capabilities. Bevel gears were cut to tolerances of less than 1/1000 of an inch. Ball bearing races were ground and polished, and ran in an oil/graphite mix.
Here are our other 3 chainless bikes. All of them came to us as part of the Perry Kaminski Collection.
1. A 1900 Hampshire Nonotuck, by Hampshire Cycle Mfg. of Northampton, MA. The Nonotuck is their men's model, their women's model being called the Katharina. Hampshire had been in business since 1894, and this bike is from their final year of production. Our bike is not complete and is not yet on exhibit.
2. 1901 Columbia Model 74, by Pope Cycle Co. This model has rear suspension pivoted just above the crank spindle and sprung atop the seat stays. As mentioned above, Pope was the most powerful bike maker of the day. They sold more chainless bikes than any other company. Our bike is not complete and is not yet on exhibit but here is a gallery of some component photos.
3.  A 1902 Pierce "Men's Model", by The George Pierce Co. of Buffalo, NY. This is a complete bike. It's a spectacular piece and arrived to us in beautiful condition, appearing as it would on the showroom floor. This is perhaps the most exotic of chainless bikes. It has suspension front and rear, with leaf-spring fork up front and a housed coil spring in the rear. Pierce would go on to produce Pierce Arrow motorcycles and cars, among the finest made until the 1930s—with drive shafts, of course.
The novelty of chainless bikes brought brisk sales, but soon after the turn of the 20th century bicycling would no longer have a lock on freedom of travel. A downturn in new bike sales wiped out many bike companies, and along with it, the shaft-drive bicycle.
After the marketing-driven chainless bike sales faded, clearer heads prevailed. It had become apparent that chain-drive bikes were not only easier to produce, they were easier to pedal. Tests determined that compared to the still extraordinary 98-percent efficiency of a chain drive, the bevel-gear drive-shaft system ran at a lowly 87-percent.
For a human-powered vehicle efficiency is key, so bicycles naturally carried on with the chain drive. But by the 1920s almost every automobile, and even some motorcycles, transferred power with a drive shaft. Columbia produced its last chainless bike by 1920. Over the next century, every so often the shaft-drive idea for bicycles would resurface, mostly just repackaged sameness, going nowhere.
It wasn't until the 2018 Eurobike trade show that I saw a company offer an intriguing new take on the shaft-drive concept, the CeramicSpeed "Driven" chainless drive, with a claim of 99-percent efficiency. Instead of bevel gear teeth gnashing against each other, their system uses a ring of ball-bearing cartridges at each end of the shaft to transfer power from input chainring to output cog. I've yet to try their 13-speed product, but I hope to one day.
Chainless bikes had their long-ago heyday, and perhaps they'll play a part in the future as well.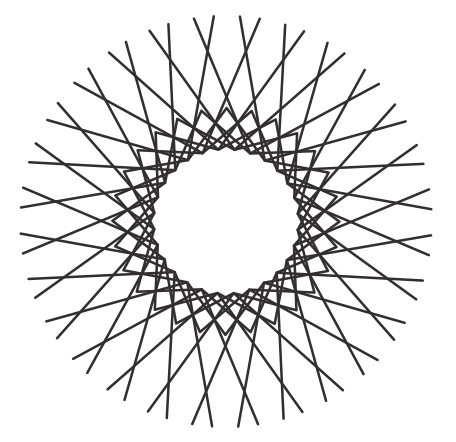 ©BikeMuse News!