RIDES
Marin County
Road
Our friends at Studio Velo in Mill Valley, CA are showcasing the incredible, world-class road riding in Marin County in this nice collection of pages on their website: MARIN'S CLASSIC LOOPS  Check them out!
Mountain
Our friends at Access 4 Bikes have put together a nice collection of trail rides in Marin. Experience the fun of riding where mountain biking was born. Click here for more info.
Camp Tamarancho. This is some of the nicest single-track in Marin. Owned and operated by the Boy Scouts of America, you need a day or an annual pass to enjoy this very fun 7.8 mile loop. Generally for intermediate to advanced riders only, this is not the best place for newbies. Click here for more info.
Please obey the rules of the road and off-road areas. Always ride in control and respect the environment, your fellow riders, hikers, equestrians and our animal friends.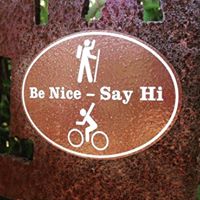 Be nice, say "Hi"