WHAT'S THE PLAN?
The Marin Museum of Bicycling is a bicycle history museum and cultural center being created in Fairfax, California.
The museum will also be the new home of the Mountain Bike Hall of Fame, which has been located
in Crested Butte, Colorado since 1988.
FAIRFAX HERE WE COME!
Fairfax, California sits at the foot of Mount Tamalpais, which is widely regarded as the birthplace of mountain biking. Fairfax is at the heart of one of the most popular bicycling regions in the United States. The town is the jumping-off point for road and mountain bike rides to all points of the compass. Mount Tamalpais, the West Marin hills, the Pacific Coast and the shore roads and trails of San Francisco Bay offer some of the best riding in the world. Thousands of bicycle tourists from around the world stream through Fairfax, as the town is on the official Pacific Coast bike route.
The Marin Museum of Bicycling will be well situated to attract people from nearby and from around the world.The San Francisco Bay Area has a population of 7.15 million people. Fairfax, a Marin County town of 7500 people, is situated 20 miles northwest of San Francisco and is the gateway to Point Reyes National Seashore. Just north of Marin County is the world-renowned Napa-Sonoma wine region. In 2010, the city of San Francisco welcomed 15.92 million visitors.
Marin County's many valleys and gentle slopes have lured bicyclists from bay to Pacific since the 19th century. The heights of Mt. Tamalpais were scaled on high-wheel bike by 1884, when the first road to the top, Eldridge Grade, was completed. For decades ferries and railroads brought bicyclists from San Francisco and around the Bay Area for weekend club forays into Marin.
National interest in personal and environmental health in the late 1950s and the 1960s laid the groundwork for today's dramatic growth in bicycle use across America. The beauty of Marin has long attracted outdoor-minded people, and naturally they and their offspring have taken to the outdoors and bicycling.
WE NEED YOUR HELP!
Our work is only possible because of your help. Anything you contribute will be greatly appreciated and bring us closer to our goal of opening and operating the highest caliber bicycling museum and cultural center.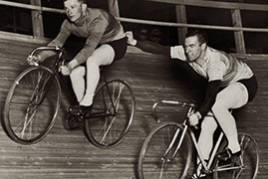 Your donations show your support and help us build the museum. Any amount is appreciated, and check out our in-kind WISH LIST.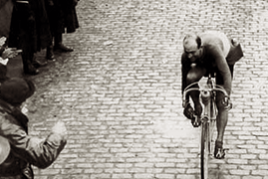 The wall, situated in downtown Fairfax is over 33 feet long and is a profile of Mt. Tamalpais and Bolinas Ridge.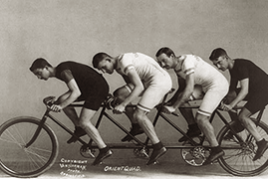 Benefits can be tailored to an individual or company's needs and capacity.