WELCOME!
 The Marin Museum of Bicycling is a premier bicycle history museum and cultural center in Fairfax, California. We display key examples from the 19th century Golden Age of Cycling, an expanded Mountain Bike Hall of Fame showing the birth and evolution of the mountain bike, and many more bicycles of all types from road & track racing to touring, to every day family transportation.
Creating a bicycling museum in Marin County is a decades-long dream that has finally become a reality. In 2013 our all-volunteer team of friends in Fairfax began to set up our nonprofit, design our space, and arrange for long-term loans of extraordinary bikes dating from 1868 onward. Working with the team in Crested Butte, Colorado, we moved the Hall of Fame to Fairfax, and we added many more bikes to the collection. Now, after almost three years of volunteer work, planning the museum, expanding our collections and fabricating our exhibits, the bikes, biographies, photos and Fame are on display.
The amazing world of bicycling awaits you!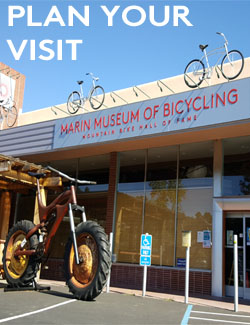 Click the image above to plan your visit today!
Individual or group tours are also available by calling 415-450-8000
Wrapping up sales for the 3rd quarter of the Mt. Tam Legacy Wall. Get your brick on the wall today!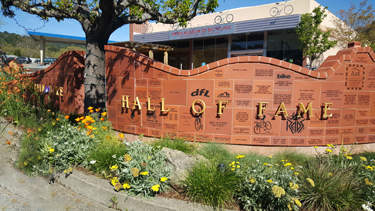 —–HOLIDAY FUN!—–
Join us on the 14th for a fun, free, member's get together with Lagunitas beer, wines, ciders, great eats from the Good Earth, holiday cookies and lots of friends, new and old!
Looking for that perfect gift?
We now have gift certificates in our online store!

FREE Admission?!
Yes! We freely admit that our Membership packages include daily admission fees, offer discounts for events and have many other perks! Bonus!–Your admission fees can be applied towards your same-day membership purchases!  Join Today!


2016 Hall of Fame Induction Recap!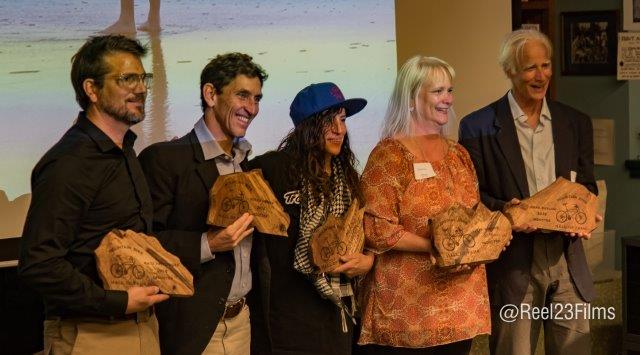 Announcing our first Auction!
Cannondale Bicycles generously donated a 2017 Habit4 mountain bike in honor of this year's Hall of Fame inductee, Missy "The Missile" Giove, former Cannondale Team Rider and champion Downhiller.
You can bid online here, or in the museum. Bids will be accepted now through Friday,
November 25th at 5pm Pacific Time.
All proceeds benefit the Hall of Fame & Museum!
MT. TAM LEGACY WALL
Project now 65% complete!
April 15th Project Update: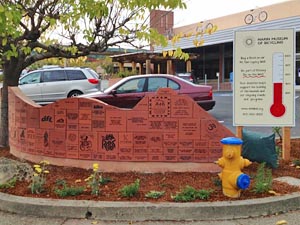 We are actively selling bricks for quarter 3 on the museum side of the wall. We have about 20-25 bricks to go and then we can begin installing them. Tell your friends and help spread the word!! We appreciate everyone's patience while we gather the rest of the order. Thank you!
The whole "Street Side" of the wall is now complete—it looks fantastic! Stop by when you're in the neighborhood and check it out, there are some really great bricks!
Each Legacy Wall brick tile purchase helps fund the cost of running the Marin Museum of Bicycling, the new home of the Mountain Bike Hall of Fame and the Igler Collection of 19th-century bicycles. This is our biggest, most important fundraiser to date, and it's a way for you, your family or your group to show your support and achieve monumental visibility. We are now selling tiles for the "Museum Side" of the wall, which is visible from the museum itself and during all our special events. Space is first come, first served. There's only ONE Mt. Tam Legacy Wall, so don't delay—order today!
FAIRFAX IS HOME!
Fairfax, California sits at the foot of Mount Tamalpais, which is widely regarded as the birthplace of mountain biking. Fairfax is at the heart of one of the most popular bicycling regions in the United States. The town is the jumping-off point for road and mountain bike rides to all points of the compass. Mount Tamalpais, the West Marin hills, the Pacific Coast and the shore roads and trails of San Francisco Bay offer some of the best riding in the world. Thousands of bicycle tourists from around the world stream through Fairfax. The town is on the official Pacific Coast bike route, and it is the gateway to Point Reyes National Seashore.
WE NEED YOUR HELP!
Our work is only possible because of your help. Anything you contribute will be greatly appreciated.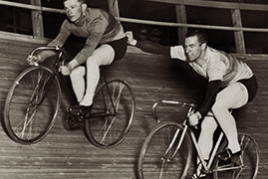 Your donations show your support and help fund the museum's operations. Any amount is appreciated, and check out our in-kind WISH LIST!
The wall, situated in downtown Fairfax, is over 33 feet long and is a profile of Mt. Tamalpais and Bolinas Ridge.