Connected Communities with Greg Williams
Join us for another of our popular live, indoor Speaker Series evenings in the museum's main gallery!
Meet Greg Williams, founder of the Sierra Buttes Trail Stewardship. Greg will be introducing the Connected Communities to us and getting us up to date on the latest developments. What is a Connected Community?
The Connected Communities Project is a visionary effort led in partnership with the US Forest Service, SBTS,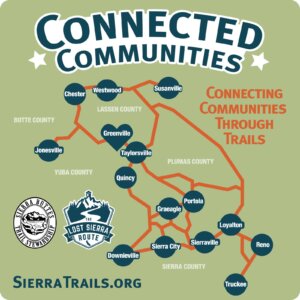 and community partners to connect 15 mountain towns for economic prosperity through outdoor recreation – an $887 billion industry. It will create a vision for a recreation-focused lifestyle through community investment, shared stewardship, economic opportunity, and important new local jobs, all benefiting economically disadvantaged communities in California's Plumas, Sierra, Butte, Lassen, and Nevada Counties as well as Washoe County, Nevada.
This route will link over 600-miles of multi-use trail traversing over breathtaking topography, jagged peaks, and high alpine meadows similar to the Pacific Crest Trail (PCT) and the John Muir Trail (JMT). But unlike the PCT and JMT, this new trans-Sierra Nevada and Cascade Range route allows for all dirt trail travelers including hikers, mountain bikers, moto riders, equestrians, trail runners, hunters, fishermen, wildlife – creating a trail for everyone.
Come hear about the creation of the world's largest trail network– right in our beloved NorCal!
Now, a word about our venue… The health, safety and well-being of our visitors, members, supporters, and staff are always our top priority at Marin Museum of Bicycling. Following the guidance of health and safety officials, we are asking that those with cold or flu-like symptoms postpone their visit until symptoms clear. Masks are recommended for everyone indoors and they are required indoors for those unvaccinated.
We hope you can join us on Saturday, December 10th! Doors will open at 6pm to give you a chance to enjoy refreshments and see our amazing collection of bicycles from 1868 to the most modern, plus selections from our collection of vintage print materials– and also for taking in some tasty local Craft Beers and Snacks. Presentation starts at 7:00.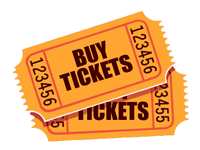 Purchase tickets here, or buy them in-person at the museum while they last. A limited number of tickets may be available at the door the evening of the event but advance purchase is recommended.
Did you know? Museum members get discounted tickets and no online ticket fees!
Wondering if your membership is expired? Click here 

to log in to your account

and check your membership status.
Not a member yet? Joining is easy → Click here to purchase a membership, then come back and select your MEMBERS tickets.

Need help with your membership? Call us at 415-450-8000 x103.



Description
Notes:
160 Total Tickets
120 Advance via Foo
—-
40 Set aside for at-the-door the night of
Event Details
This is the event details tab text.
Date: December 10, 2022
Start time: 06:00 p.m. PST
End time: 09:00 p.m. PST
Venue: Marin Museum of Bicycling
Coordinates: 37.987784, -122.589751
Directions: We are a scenic 45 minute drive North across the Golden Gate Bridge from San Francisco– about 21 miles. Our address is: 1966 Sir Francis Drake Blvd., Fairfax, CA 94930
Phone: 415-450-8000
Email: events@mmbhof.org