Let's visit the Marin Museum of Bicycling
Home of the Mountain Bike Hall of Fame!
 Blazing Saddles Ride #4 directions for direct-route to and from the Museum & Larkspur Ferry
A 35 minute, almost-flat, beautiful ride each way.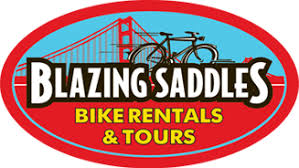 Ride #4 Larkspur Ferry to
Marin Museum of Bicycling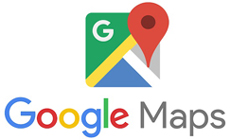 Larkspur Ferry → Museum
Click/Tap for Map & Directions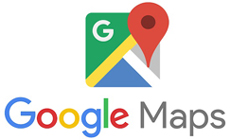 Museum → Larkspur Ferry
Click/Tap for Map & Directions
Coming for a visit? You're in for a treat! And getting here is half the fun with this easy, scenic, almost totally flat ride that takes about 35 minutes each way. Breathtaking views of Mt. Tamalpais and Marin County are yours to enjoy all along the way.
The museum is home to the Mountain Bike Hall of Fame and we have a fascinating collection of bikes spanning almost 200 years, including some of the very first mountain bikes. Our bike displays include texts and photographs that provide a wealth of information and we are usually able to give tours of the collections led by knowledgeable docents, some of whom are Mountain Bike Hall of Fame Inductees. If you would like a tour, please be sure to call ahead to check for docent availability and schedules. Plan about an hour for a tour, more if you have specific areas of interest that you would like to explore. Whether you're a cyclist or not, you're sure to gain a greater understanding of and appreciation for the bicycle and its amazing history and potential.
Here's how to bike to the Museum:
Choose your favorite trip schedule from the Table below. Note there is only 1 trip on Saturday's and Sunday's.
Pickup your Blazing Saddles bike with plenty of time to ride to the Ferry Bldg and buy your tickets. Book the Golden Gate Ferry to Larkspur. You can purchase round-trip tickets in advance (not online, sorry) and they are good for 90 days from purchase date. Tickets are usable on any Larkspur Ferry departure– they are not for a designated departure time or date and seniors 65+ are given a 50% discount.
E-Bikes are allowed on the Golden Gate Larkspur Ferries.
Enjoy your voyage across our beautiful Bay.
From Larkspur, choose the Larkspur Ferry → Museum map above and follow the bicycling directions to the museum– it is a route specially designed to keep you on scenic bike paths and quiet streets away from traffic as much as possible.
When you arrive at the museum, pay for your admission at the front desk. Double-check how much time you have for visiting before you have to leave Fairfax and ride back to the Larkspur ferry. Enjoy a tour of cycling history and if you have time take a stroll around the town of Fairfax.
When it's time to return, strap on your helmets and enjoy the ride back. Choose the Museum → Larkspur Ferry map above for the return trip back to the Larkspur Ferry. The Google route takes you back the exact same way you came.
Back at the Larkspur Ferry landing, scan your tickets at the gate and board the Golden Gate Ferry to San Francisco with your bikes.
On arrival back in San Francisco, ride back to your Blazing Saddles bike drop off location.
Thank you for visiting the Marin Museum of Bicycling!
Ride 4 Trip to Marin Museum of Bicycling
This table lists the round-trips you can take to visit the museum. This is for the easy, almost-flat, direct-route on pavement.
Notes: You can choose a later ferry to return on if available. There is only one ferry round-trip that works on weekends.
Total Trip Mileage: Approx 21 round-trip miles from Blazing Saddles bike rental on Hyde St.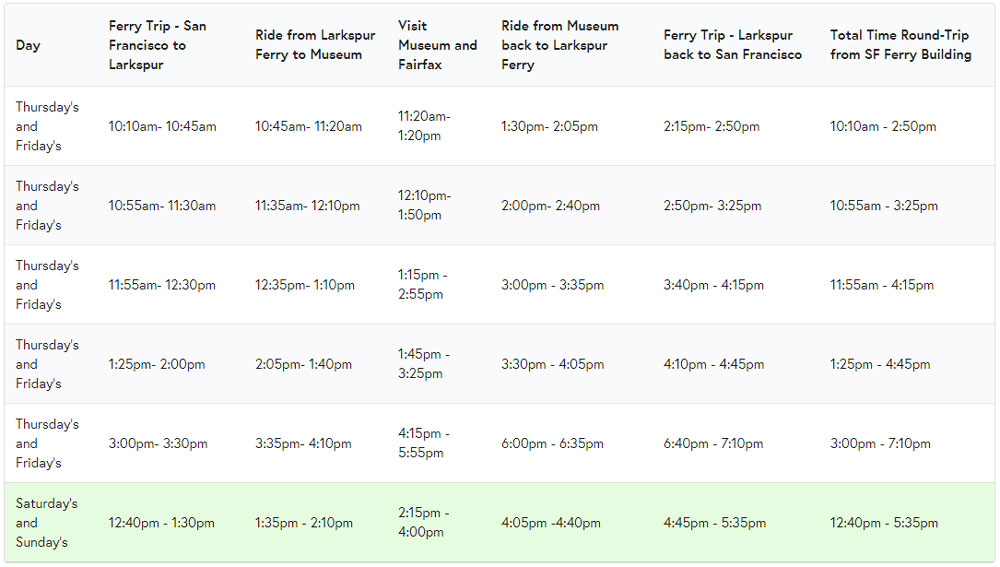 Fairfax itself is worth the visit. You'll find it hard to believe how such a quaint small town could exist so close to the big of city San Francisco. Fairfax is like traveling back in time to a simpler, slower, friendlier world. It's a wonderfully walkable town, offering many great restaurants, shops and coffee houses with a refreshing small-town feel (pop. 7500). You won't find any chain stores here– each Fairfax shop is unique and locally owned. We look forward to seeing you soon in Fairfax at the Marin Museum of Bicycling and Mountain Bike Hall of Fame!
Museum is located at: 1966 Sir Francis Drake Blvd., Fairfax, CA 94930
Our Hours:
Open:  THURSDAY—SUNDAY 11am-5pm (closed Mon-Wed)

Closed: Mondays—Wednesdays

Special Holiday & Vacation closures and early closings:

Closed Thanksgiving Day

Closed Christmas Eve and Christmas Day, 24 & 25 December (if normal open days)

Closing early at 2pm on New Year's Eve (if normal open day)
Closed New Year's Day (if normal open day)
Closed for staff vacation the first two weeks of January (in 2019 that will be the 1st through the 16th and we will reopen on January 17th)
Private & Group Tours by appointment. Please contact us for details.

Admission fees:
Adults $10
Seniors (65+), Military & Disabled $8
Youths (12-17) & Students $5
Children (6-11) $3
Children 5 & under, Museum Members & Mountain Bike Hall of Fame Inductees: FREE
Would you like free admission?  Click here to become a member!  Note: You may also apply your day-of-visit admission fees towards your membership, when you purchase your membership during your visit.
Phone: 415-450-8000
We look forward to your visit!