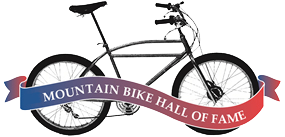 NOMINATION SEASON IS NOW OPEN THROUGH APRIL 15TH!
Ohhhhh Yeah!…the annual Nomination Season is open now through April 15th! Now's your chance to get those nominations in. This is that special window each year when the Hall of Fame Nominating Committee stops riding for a few hours to pay attention and turn on the giant super computer. Don't miss out—get those nominations in today!
On this page you'll find step-by-step instructions on how-to nominate someone, and when you're ready, you can click on the forms to start nominating!
NOMINATION & INDUCTEE SELECTION PROCESS
How does someone get into the Mountain Bike Hall of Fame? Great question. Each year, three to seven individuals or groups have been inducted. There was one exception, 1988, our charter year, when ten people were inducted into the Hall.
Here's a video with Hall of Fame Vice President Otis Guy explaining how the nomination process works. We created this to help everyone understand the process and explain how to submit a valid nomination.
2017 Mountain Bike Hall of Fame Nominations from Reel23Films on Vimeo.
Step-by-Step:
First, Inductee candidates are proposed for the ballot through our nomination process. We accept candidate submissions from March 1st to April 15th each year. Anyone can submit a nomination for someone they feel is worthy of induction and meets the published criteria. The candidates, or their authorized representatives must grant permission to be considered. It is up to the nominator to obtain their permission.
Next, the nominations and permissions are submitted to the Hall of Fame Nominating Committee which does fact-checking, checks for complete and persuasive submission materials, and vets all of the candidates.
If the nomination as submitted does not meet the criteria, the person who submitted will be notified and be given the opportunity to correct discrepancies or omissions and to resubmit. If there is sufficient time in the current nominating cycle, the candidate may still be considered for the current year ballot. If there is insufficient time, that person may be considered again by the Nominating Committee the following year. Your best chance for success is to make sure it is complete and compelling the first time.
Key points: Anyone who is on the ballot is considered to be MBHOF worthy!  We have established the Nominating Committee and a vetting process to have individuals who truly deserve to be elected in the MBHOF. While many have made significant contributions in their immediate geographical areas, the MBHOF is a global entity representing the entire world of mountain biking. Our charter is to recognize those who have shaped the sport or had widespread influence. Those individuals may have made a difference working out of their garage, through a brand, an organization or in competition. Whether building bikes, building trails or racing, a worthy candidate will have contributed something more than a great track record. A strong candidate will have shifted the paradigm and changed the way we look at things going forward. Their contribution will have as much significance 10 or 20 years from now as it does today.
The candidates that are approved by the Nominating Committee will be announced in the Spring and the official candidate ballot and bios will be posted on the website for everyone to review.
When voting season opens, we will post announcements on our website, by email blasts (click here to sign up) and social media outlets. All current members of the Mountain Bike Hall of Fame will be notified and are eligible to vote (How can you join? See below).
The members cast their votes. After voting season closes, the Hall of Fame staff counts the votes and publishes the results. We announce the new Inductee-elects through all those channels previously mentioned.
The inductee-elects become official Mountain Bike Hall of Fame Inductees at our annual Hall of Fame Induction Ceremony—September 22-23 a weekend festival of great rides, food, friends and fun at the Mountain Bike Hall of Fame in Fairfax, CA. Stay tuned for our announcement about this year's event!

… and that's how the process works!


Ok, are you ready?  Here is the Nomination Form and the Permission Form. You will need to complete and submit both to have a valid nomination—nomination forms without the permission form have to be rejected by the nominating committee. Take a look at the forms and compile the information together that you will need, then fill them out.  Good luck!
Annual Calendar:
March 1 – April 15  Nomination season is open and the Mountain Bike Hall of Fame is accepting nominations during this time period. Nomination forms will be posted on this page with instructions for submitting your candidate.
April 16 – June 1  The nominating committee is hard at work on vetting all the candidates and creating the election ballot.
June 15 – July 15   Voting season is open. During this period, members cast their votes to elect inductees to the Hall of Fame.
July 16 – July 31  The votes are counted and the winners are contacted to go over all the details.
August 1   New inductees are announced to the world!
September 22-23 Induction Ceremony  The finale of the year is the grand induction ceremony. It's a great party with celebrity rides, great food and drink and a lively ceremony crowning the new Inductees. It will be held in Fairfax again this year—at the Mountain Bike Hall of Fame of course! Back by popular demand!
2017 MBHOF Rolling-Forward Provisional Ballot
Here's a look at the candidates that will be rolled forward onto the 2017 Provisional Ballot. Once someone is on the ballot, they stay for 5 years or until they are elected or retired.
On August 13, 1994, with the deafening blast of the old double barrel shotgun echoing off the surrounding 14,000 ft. mountains, Ken Chlouber changed the face of mountain bike racing forever. Ken is the founder of the iconic Leadville Trail 100 Mountain Bike Race. He is a true pioneer in the sport of ultra-endurance mountain bike racing.  More…
Josh Bender, aka Bender, quickly made himself a name in the emerging Freeride scene in the late 1990's. His name became synonymous for going big on a mountain bike, hucking off cliffs very few dared, at heights the sport hadn't seen. With very futuristic bike designs, spectacular stunts, and crashes, Bender became a household name in mountain biking.  More…

Pure passion is something that cannot be replaced with anything else. Wolfgang Renner has contributed to mountain biking on many levels as a manufacturer, journalist, race organizer, traveler and 3-D photographer. In a nutshell, he is mountain biking's first advocate and promoter in Europe.  More…
So now we will be waiting for your nominations to see who will be on the rest of the ballot.
Get those nominations in NOW through April 15th!!!
   Want to be able to vote this year? Join or Renew your Mountain Bike Hall of Fame membership today!
CLICK HERE TO JOIN OR RENEW YOUR MEMBERSHIP ONLINE!
 Thanks for your support!