HALL OF FAME NOMINATING

NEWS FLASH!
Dear Members and Friends of the Mountain Bike Hall of Fame,
Thank you for your nominations this year. Nominations are now closed until next February, 2022.
We hope all of you reading this continue to be healthy and safe in these difficult times. Never has our sport played a more important and beneficial role in people's lives. The pandemic has confirmed what we knew all along– the value of two-wheeled friendship, the importance of the outdoors, recreation and fitness, and how good bicycles can be for transportation. Here's to great local riding wherever you are!
The Mountain Bike Hall of Fame's home at the Marin Museum of Bicycling reopened on Earth Day April 22nd, 2021 after being Covid-closed to the public since March, 2020. That's thirteen months of being closed, folks!

Unfortunately, we have had to again cancel our in-person inductions in 2021 due to travel restrictions and surges of the COVID variants. Since there was no in-person induction ceremony in 2020 or this year, we are planning on inducting our 2020-21 inductees along with the '22 crew at our annual Hall of Fame induction weekend in Fairfax October 7-9, 2022.

And in the other big news to share with you department, check out our announcement on the Inductees page for the complete scoop.
Thank you for your support!
Your Friends at the Mountain Bike Hall of Fame

NOMINATION & INDUCTEE SELECTION PROCESS
So, how does someone get into the Mountain Bike Hall of Fame? Great question. Each year, four to six individuals are inducted, with the exception of 1988, our charter year, when ten people were inducted into the Hall.
Here's how to nominate someone, step-by-step:

Inductee candidates are proposed through our nomination process. We accept nomination submissions during the month of February each year. That is when our nomination submission form will be available. Anyone can submit a nomination for someone they feel is worthy of induction and meets the published criteria. It is very important to contact the person that you wish to nominate (or their authorized representatives) to work together on the submission. This is their story and they know their accomplishments usually better than anyone else. The candidates, or their authorized representatives must grant permission to be nominated and it is up to the nominator to obtain their permission and cooperation with compiling the submission. Furthermore, the nominees or their representatives, must be willing and able to travel to attend the nomination ceremony should they be elected. This will be a contractual requirement.

The nominations and permissions are evaluated by the Hall of Fame Nomination and Selection Committee (NSC) which does fact-checking, checks for complete and persuasive submission materials, and vets all of the candidates. If the nomination as submitted does not meet the criteria, the person who submitted will be notified and may be given the opportunity to correct discrepancies or omissions and to resubmit at the sole discretion of the NSC. The best chance for a successful nomination is to make sure submissions are complete, compelling and accurate with verifiable facts and evidence the first time.  It is of the utmost importance that you understand the process and what it takes to have a worthy and complete submission that can be considered. Please take your time, make sure your submission is complete and that it includes proof of your candidate's accomplishments and contributions. If you have any questions, please contact MBHOF Director, Otis Guy.
Key points: We have established the Nominating and Selection Committee and a vetting process to have individuals who truly deserve to be inducted into the MBHOF. While many have made significant contributions in their immediate geographical areas, the MBHOF is a global entity representing the entire world of mountain biking. Our charter is to recognize those who have shaped the sport and who have had widespread influence. These individuals may have been working out of their garage, through a brand, an organization or in competition. Whether building bikes, building trails or racing, a worthy candidate will have contributed something more than a great track record. A strong candidate will have shifted the paradigm and changed the way we look at things going forward. Their contribution will have as much significance 10 or 20 years from now as it does today.

The candidates that are approved for induction by the NSC are announced to the membership and the general public worldwide in the Spring, along with the full calendar of events for the rest of the year.

The inductee-elects become official Mountain Bike Hall of Fame Inductees at our annual Hall of Fame Induction Ceremony in Fairfax, California—a weekend festival of great rides, food, friends and fun at the Mountain Bike Hall of Fame.
… and that's how the process works!
Click Here

to join or Renew your Mountain Bike Hall of Fame membership today!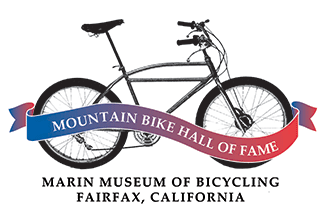 Thanks for your support!